Something woke me. Maybe it was the rain coming in through the open, louvered window or the roaring wind gusting through the house. It must have been some of both. One thing was for sure, the storm was upon us!
Preparation
All week, there had been a debate whether the storm that was coming in from Fiji was just a tropical disturbance or an official cyclone. Some sources said storm, while others said cyclone. Nate and I had discussed what it might mean for us if it did turn into a cyclone, but we decided to take the route of minimally skeptical, par for the course for us. What I mean by minimally skeptical is assuming that it won't turn into anything, but having some bare necessities that could take us through a few days. Our aversion to accumulating "stuff" makes us very hesitant to buy and store things that we probably won't actually need, for a natural disaster that may or may not happen someday.
So, Thursday afternoon I stopped and grabbed a few cans of chili, an extra loaf of bread, some fruit, and filled up our two three-gallon water jugs. Between that, and the things we had at home, I figured we would be fine. Later that evening, as reports of a full hurricane were coming in, I went back for a flashlight, batteries, a few more cans, and a couple packages of cookies (priorities, people!).
We went to bed that night, devices and two battery packs plugged in to top off their batteries, and wondered what we would wake up to in the morning.
Cyclone Gita
Sleep was difficult as the wind and rain grew in fury throughout the night. I sleep by a wall of glass and I couldn't shake the fear that something was going to come crashing through at any second. By around 5:30 in the morning, I gave up on sleep and crept downstairs. Everyone else in the house was still sleeping, so I relished the "quiet" time. I sat far away from the windows and read a book, while keeping an eye on the storm raging outside.
One by one, Nate and the kids made their way down the stairs. Together, we marveled at the power of the wind and rain outside.
Back to Reality
Soon we were drawn away from our front row seats to deal with the pools forming all over inside. Nate had gotten up in the early morning and closed all the windows, as well as he could. But there was still water pouring in.
Not all our windows close completely and the ones that do, are no match to rain that's being driven sideways by gusts of up to 145 mph. Nate was putting cardboard in the windows, in hopes of limiting the amount of water coming in and I was going from room to room mopping. We were fighting a battle that we couldn't win. Our floors were pooling with water, in spite of our best efforts. At one point, Nate was laughing at me because I had the mop turned upside down, catching the water that was being pushed in through the up-turned louvered pains of glass, and streaming along our ceiling.
Eventually, we gave up the fight, choosing instead to watch in awe at the cyclone tearing up the island around us.
Aftermath
It was clear to see when Cyclone Gita had passed; the wind and rain continued for a while, but without the same force. Once the storm had died enough, we ventured outside to assess the damage.
Around Our Complex
Around our complex, there were uprooted trees and some were completely shredded.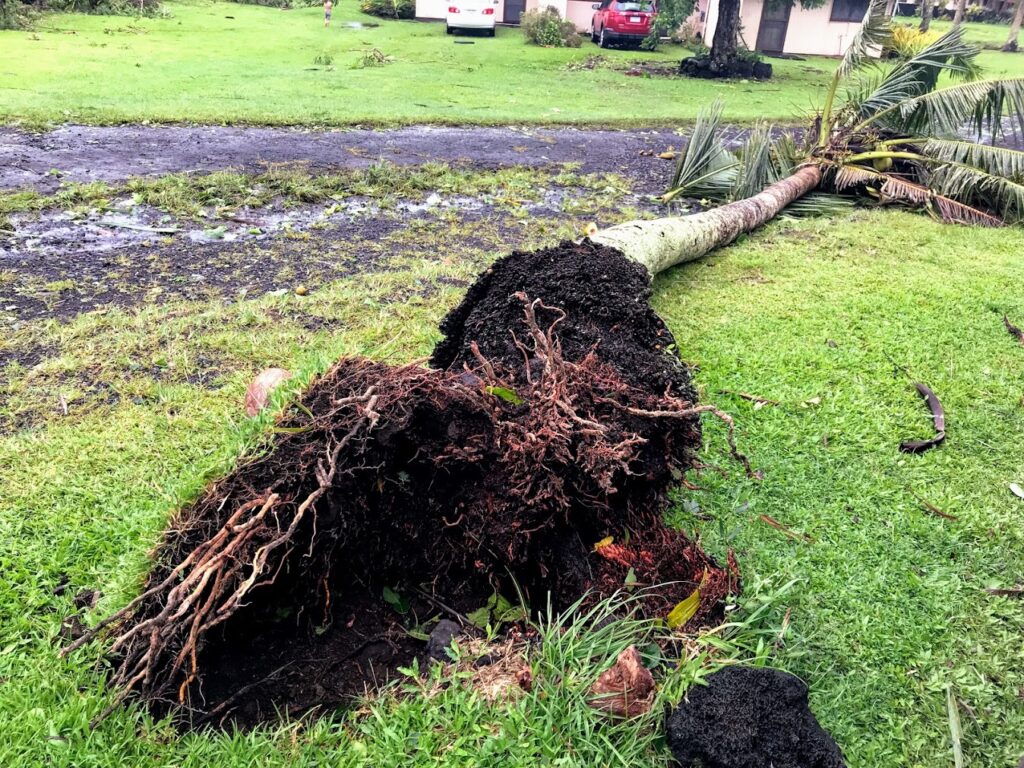 Power and cable lines were lying limply on the ground, broken from their routine circuits.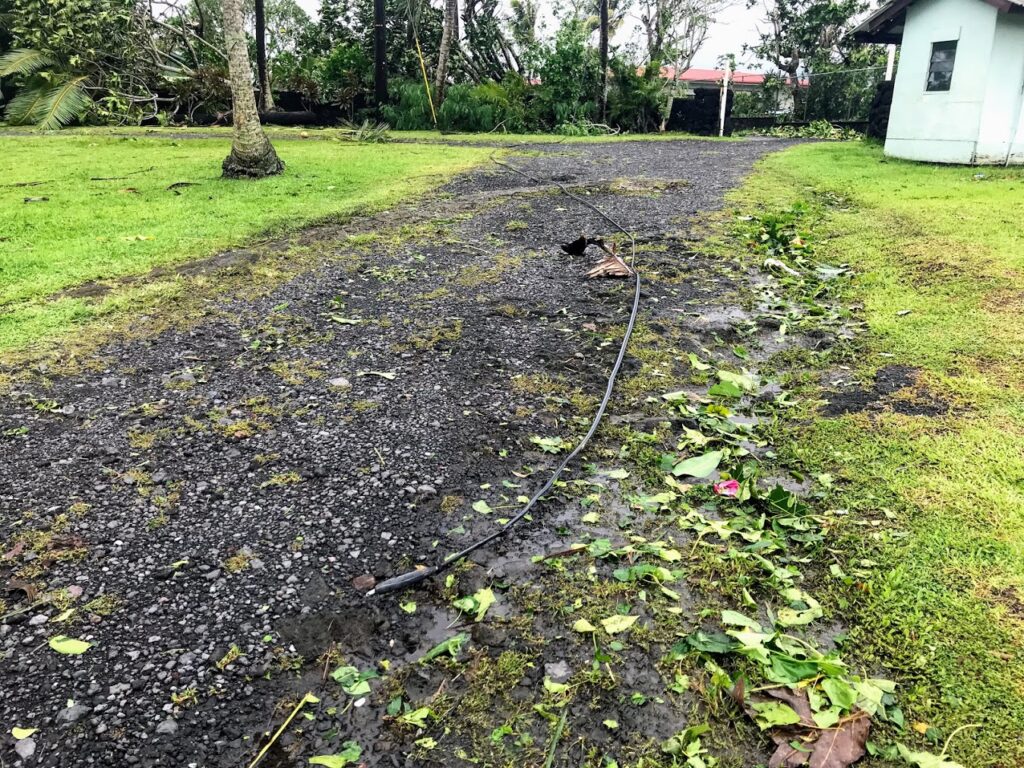 Or tangled with fallen trees.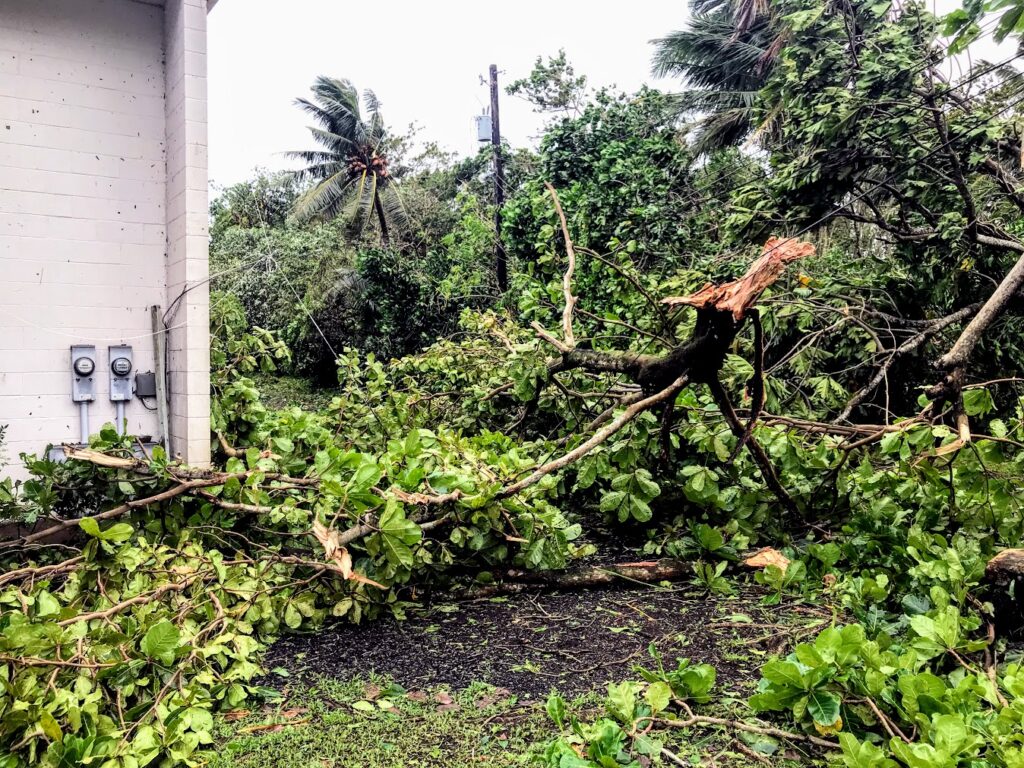 Bits of roof and wall were missing.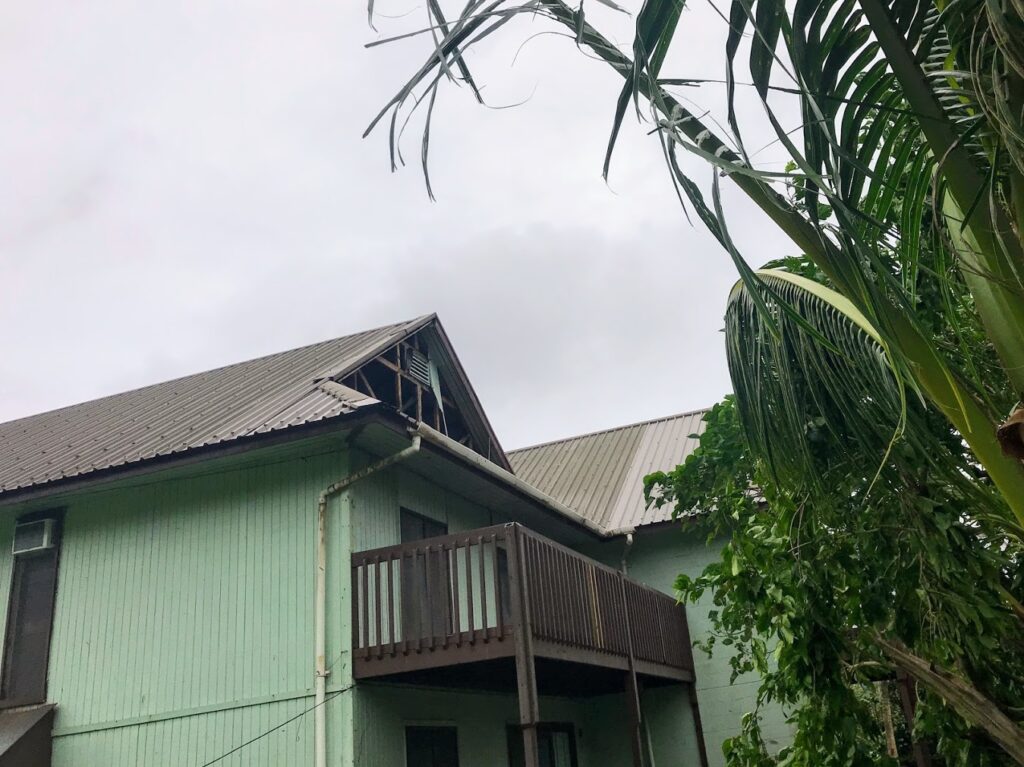 Limbs, leaves, coconuts, and pieces of neighboring houses littered the ground.
As we looked around, we began to realize what this would mean for the island. Our small stock of cans and water suddenly seemed ridiculously insufficient. We gathered a dozen coconuts and I decided to brave the roads to see if any stores were open.
Around the Island
The mile-long stretch of road that led to the main road, looked more like a scene from The Walking Dead than the friendly, picturesque drive from yesterday. The place was deserted.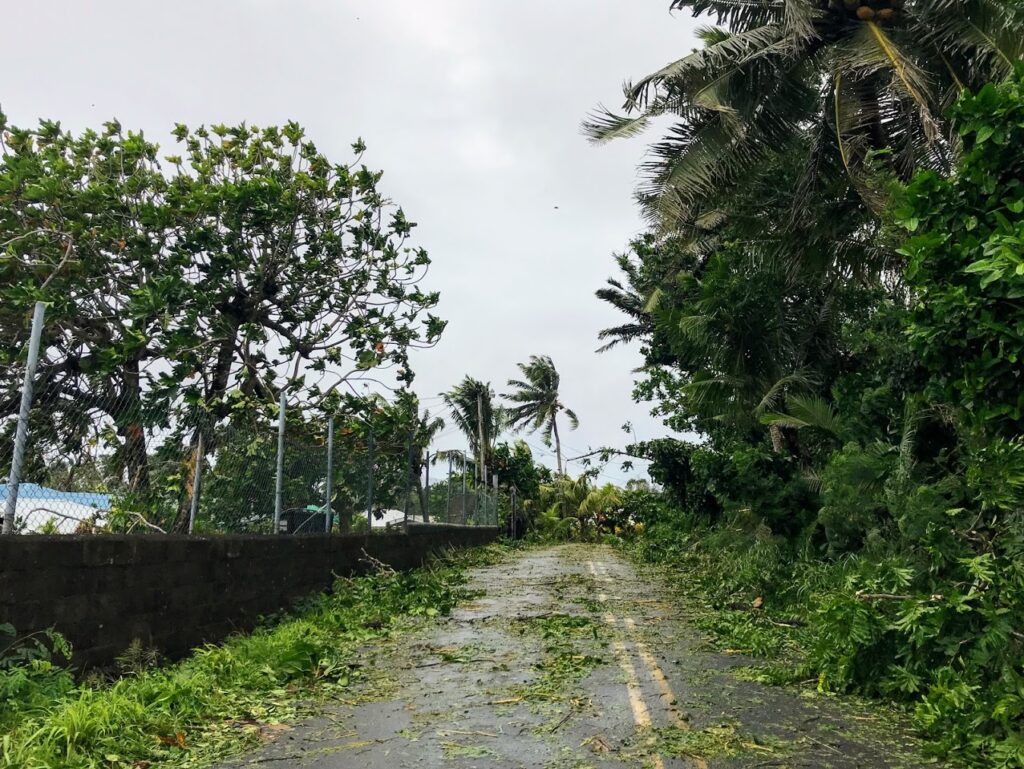 There were more downed trees, cables laying across the road, and houses that were missing roofs.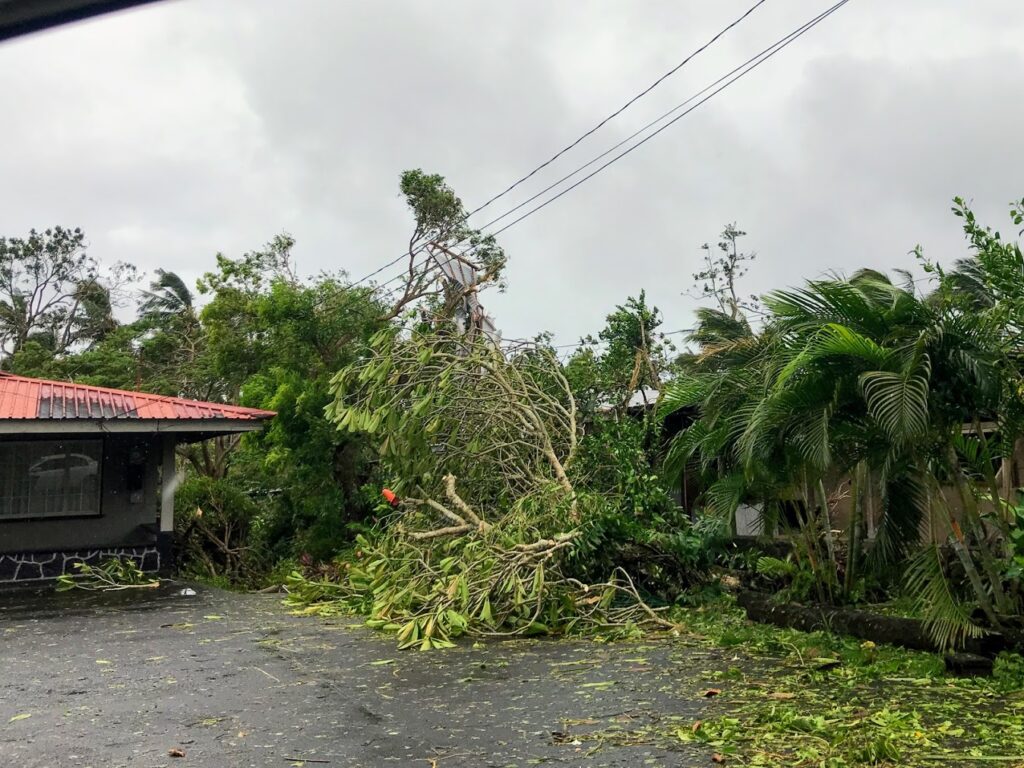 I dodged the fallen trees and debris, to make my way to the nearest store, who's doors were open, but no lights were on inside. With the power off, Holden and I made our way around the dark store grabbing more non-perishable food: canned meat, soup, and fruit; crackers and chips; boxed milk and cereal; and granola bars. We paid with cash and made our way back home.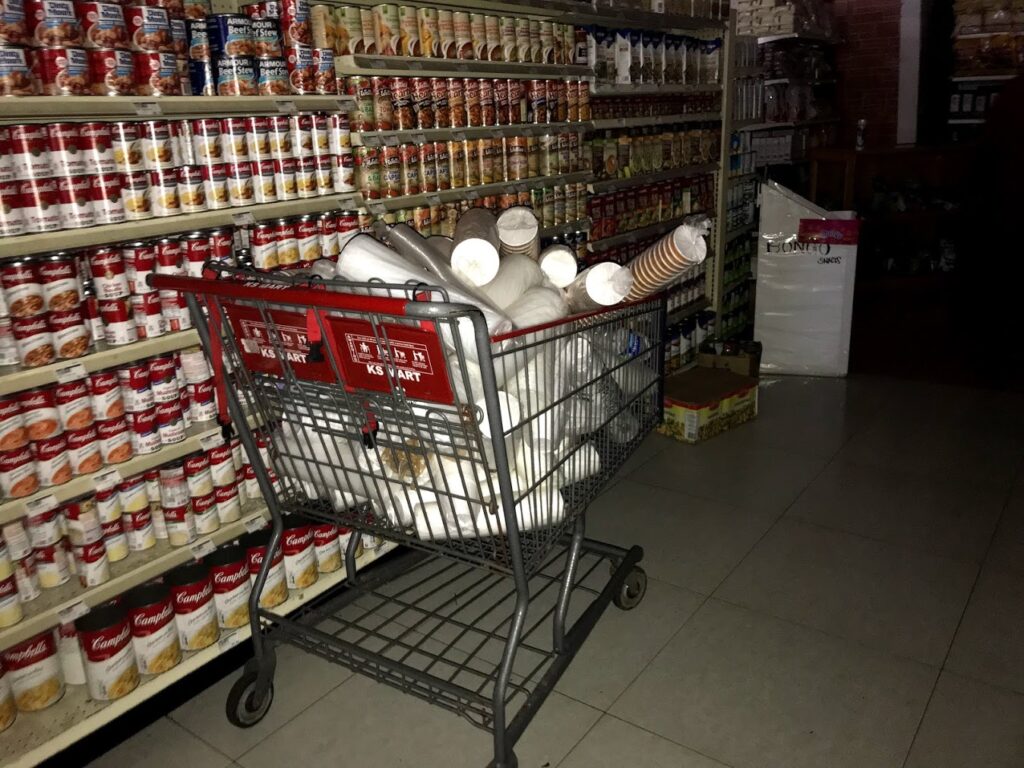 Over the next few days after Cyclone Gita we heard stories of families who's houses had been completely destroyed.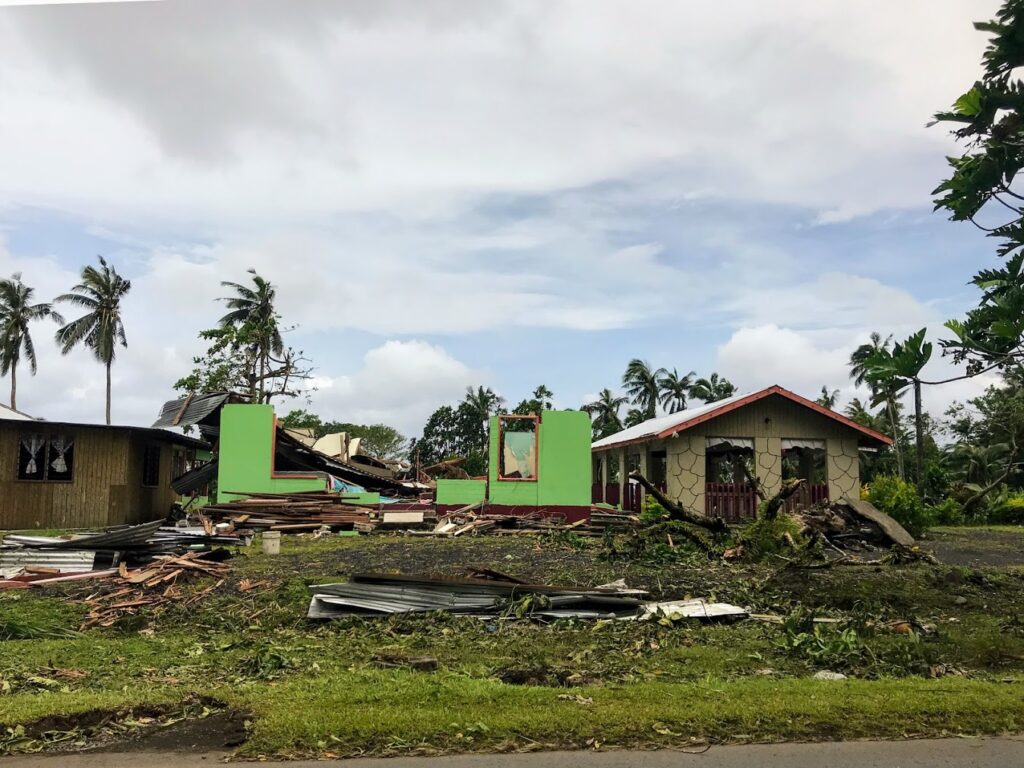 Whole roofs were torn from stores, leaving all the merchandise inside to be ruined. Trees had fallen on schools, crashing through the roof, leaving classrooms in shambles. Most of the island was without power and water, unless they had private generators.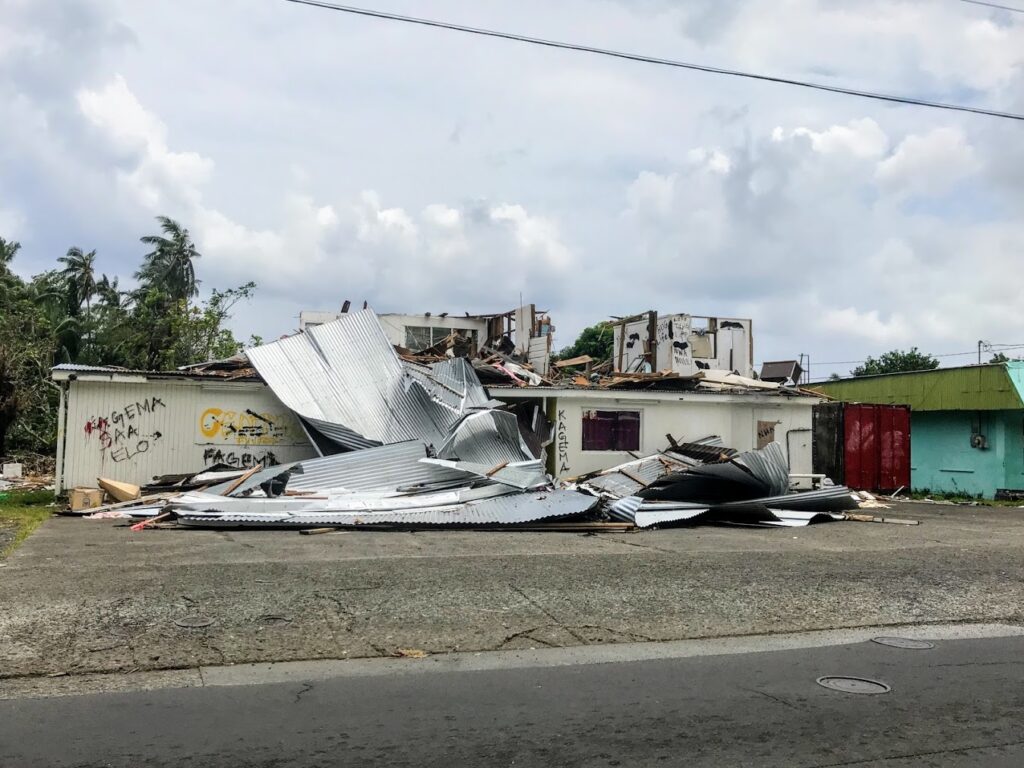 By Saturday morning, everyone was out. Family helping family. Neighbor helping neighbor.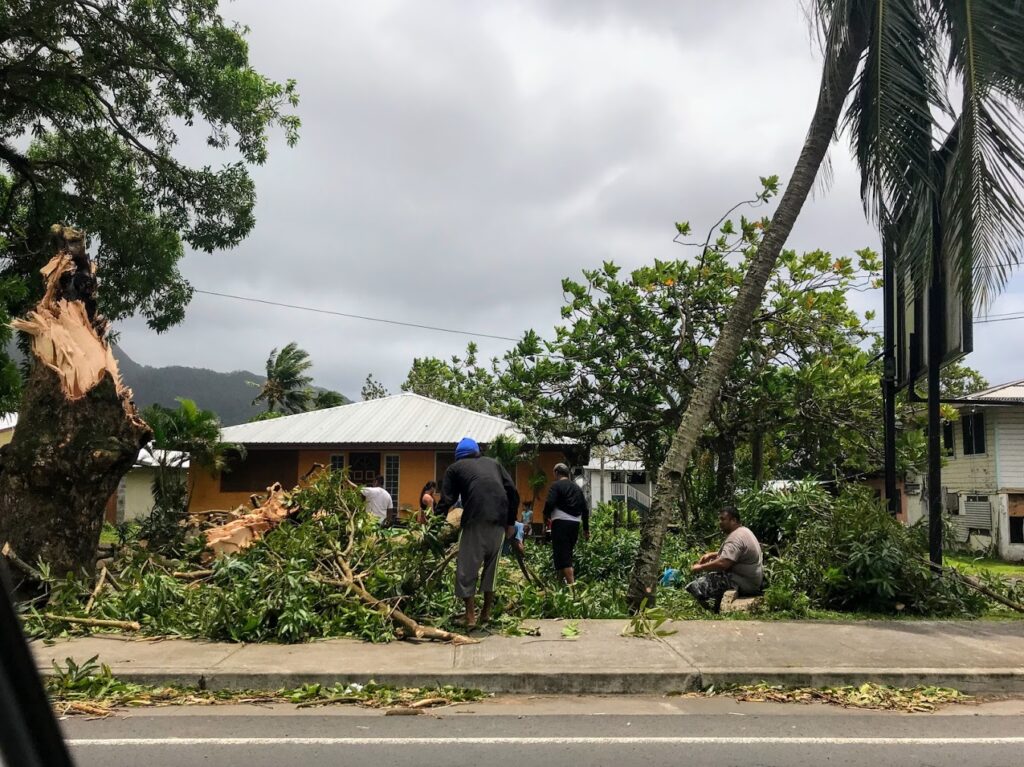 ASPA (American Samoa Power Authority) worked over-time to restore power and water to everyone. They started with government buildings, businesses, and gas stations. As of Tuesday night, it they estimated that 95% of the island had water and 65% had power. Twice, we watched ASPA employees continuing to work well into the night, just here in our complex. Rain or shine, light or dark, they have been working their way around the island, doing their part to get the island up and running again.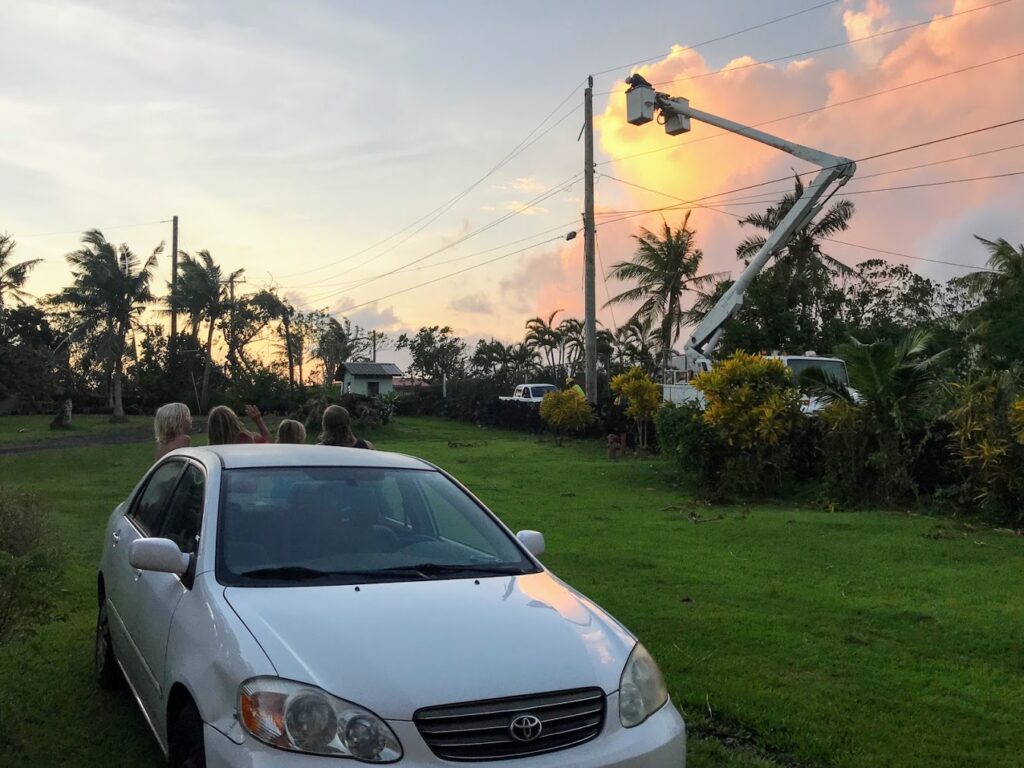 What Now?
We were some of the lucky few who had a water restored on Saturday morning. It turns out, you can live pretty well, as long as you have water. We ate cereal, with warm, boxed milk for breakfast; peanut butter and jelly sandwiches for lunch (until our bread went moldy, then we treated ourselves to McDonald's one day); and cold, canned soup, chili, and ravioli, with canned fruit for dinner.
High-wind, high-surge, and flash-flood advisories remained in affect throughout the rest of the weekend. Then, Sunday afternoon, the wind stopped and it has been still ever since. The days have been incredibly hot and humid with no electricity to power a/c's or fans. Luckily, Wednesday afternoon, our power was restored and I literally screamed for joy!
Nate works as the economist for the island and is spending the week working up an economic impact from Cyclone Gita's damage. FEMA and other organizations are on the ground, lending help to those who need it. Driving around, I can see a lot of clean-up and rebuilding already, but there is still much to do.
Around the World
Living in this heat without power has been no easy feat, but when put in perspective, I'm eternally grateful for our good luck. Cyclone Gita was a category 1 when it hit our island, by the time it reached Tonga, it had grown to a category 5. The pictures coming from there, show an island that will take far longer than a week to recover. There are Caribbean islands who have been without power for 60+ days. All over the world, people bravely recover from natural disasters, to build stronger families and communities, homes and businesses.
As I look around the globe, I consider the ways that Mother Nature keeps us in check. I marvel at the immense power, not just the physical power of wind and rain, but the power to make everyone cower before her. Unlike a human threat, there is no fighting nature. A bullet through the eye of a storm doesn't slow it down. Everyday, we are at the mercy of the forces of nature, whether through storms, earthquakes, floods, fires, or dangerous ocean currents. When disaster strikes, we gain opportunities to rebuild and start anew.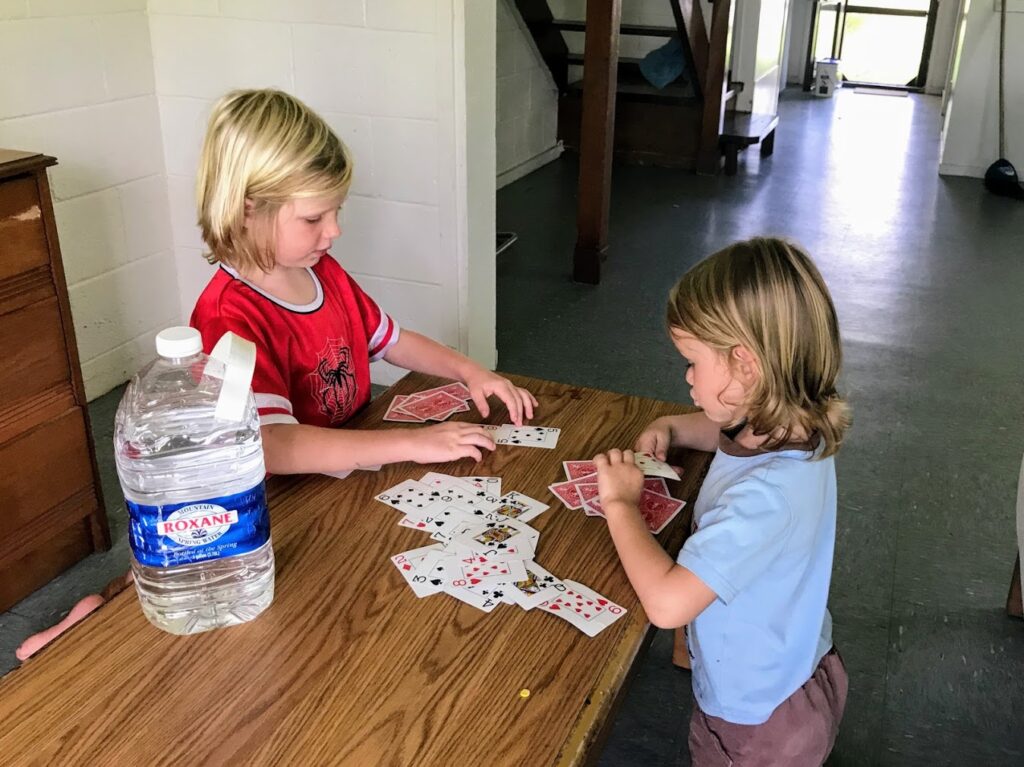 P.S. Remember that preparation strategy of being minimally skeptical? It's not officially a thing, I made it up.
What We Learned from Cyclone Gita
We learned a few lessons from our first cyclone experience:
Three days requires more than a few cans of chili and a flashlight to live comfortably.
Three days requires less than you might think to survive.
If a serious natural disaster is imminent, prepare for longer than the duration of the event.
It's safe to assume that there could be repercussions that could last for days, weeks, or even months. Food, water, gas, and cash (and a source of warmth, if you're in a cold climate) are definitely worth gathering. Beyond those basics, it's up to you how much you want to purchase and store. We were lucky to have access to groceries immediately following the cyclone, but would have survived off of what we had in the house if necessary. We rediscovered what living unplugged means for our family and the kids handled it like champs!
Hadley, our 9 year-old, shared experience of Cyclone Gita from her perspective on her own blog. Check it out at Hadleyslife.wordpress.com. It's a quick, one-minute read. Leave a comment and you will make her day! ❤️