I want you to close your eyes and picture a private beach on a tropical island, far from the hustle of civilization, from chain resorts, far from everything. Just you and the sand and the waves.
Fogama'a goes by many names- Hidden Beach, Larsen's cove, Secret Beach, etc. but they all come down to this…
A protected beach, surrounded on three sides by high basalt cliffs, with nothing but soft sand and coconut trees on the land and a coral reef and tropical sea life under the water. It's just a 20 minute drive from Tafuna, yet involves a hike that is just tricky enough to keep most people from coming. Making Fogama'a a perfect tropical PARADISE.
Fogama'a Hiking Basics
Distance: 0.5 miles (0.8 km)
Hiking Time: 30-60 minutes
Difficulty: Easy/Moderate
Island: Tutuila
Start Point: As this trail is most commonly used by the locals as access to a banana plantation, there are no trail markers. We usually start hiking where the road ends. To get there, you drive through Vaitogi, past Turtle and Shark Lookout Point. From Turtle and Shark, drive about 0.8 miles, to a fork in the road- take the right. The road gets exceptionally rough from this point on. I'd advise only taking a 4-wheel drive vehicle or at least something with plenty of clearance underneath. Most of this section is dirt road but keep going until the end. You'll know you've arrived, when you see a large grassy area to your left, with a drive that leads up to a few houses on a hill.
End Point: Same as the start.
Parking: We've always parked in the grassy area. Sometimes there's a volleyball net and you may not want to be in the way of a game, but make sure to pull off far enough that you're not blocking the road or drive up to the houses. ALWAYS ask permission to park here and use the hiking trail.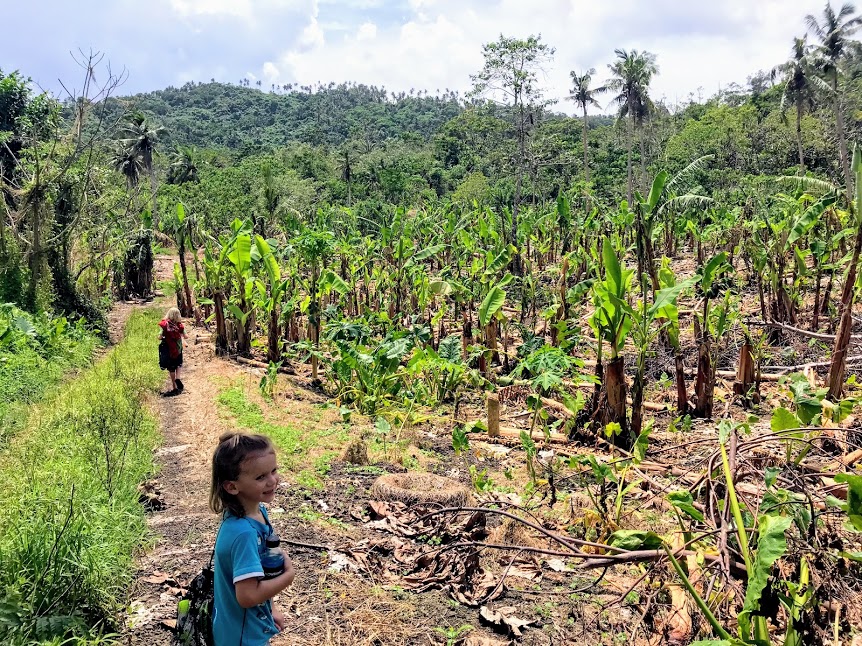 Hiking to Fogama'a Beach
The Trail
Each time we start hiking this trail, we keep the kids close. There have been aggressively barking dogs at the last house a few times. These dogs have never actually been aggressive with us, but animals can be unpredictable. So, we keep the kids close until we're past the house.
This first part of trail is mostly walking along two well-worn tire ruts. The grass can be overgrown but the trail is well-defined.
At the top of the hill, the trail forks. Take the left. The trail tends to be more overgrown and less defined here. While you're forced to turn left or right on the way to the beach, look around for a landmark, as it can be more difficult to spot this intersection on the way back.
If it's rained recently, the trail will be muddy, with larger puddles that you'll need to walk around, hop over, or just wade through. The grass is usually taller here and can make bare legs itch.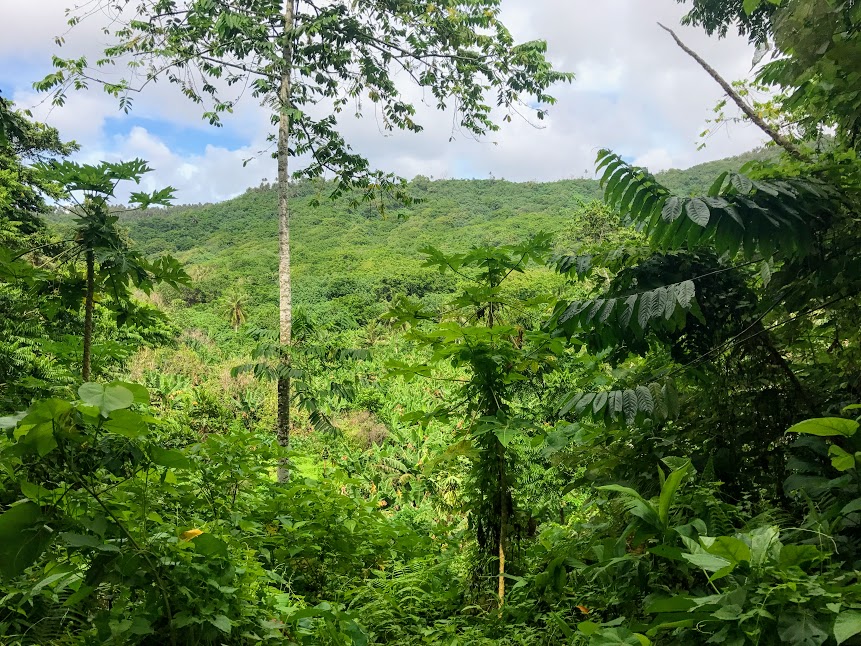 You'll begin to descend into the ancient volcanic crater, down a relatively steep and rocky section of trail. The trail is wide here and very well-defined, but the footing can be tricky. Watch for slippery mud and/or loose rocks and gravel. Take your time and be grateful you're not climbing back up yet.
At the bottom of the crater is a large banana plantation. Take the first left, right at the bottom of the hill (if you go up another rise, you've gone too far). Make your way through the shady plantation. Depending upon how overgrown the foliage is, the last section of trail can be hard to follow. Just keep going straight, you'll soon hear the roar of the waves that will lead you to a ledge above the cove.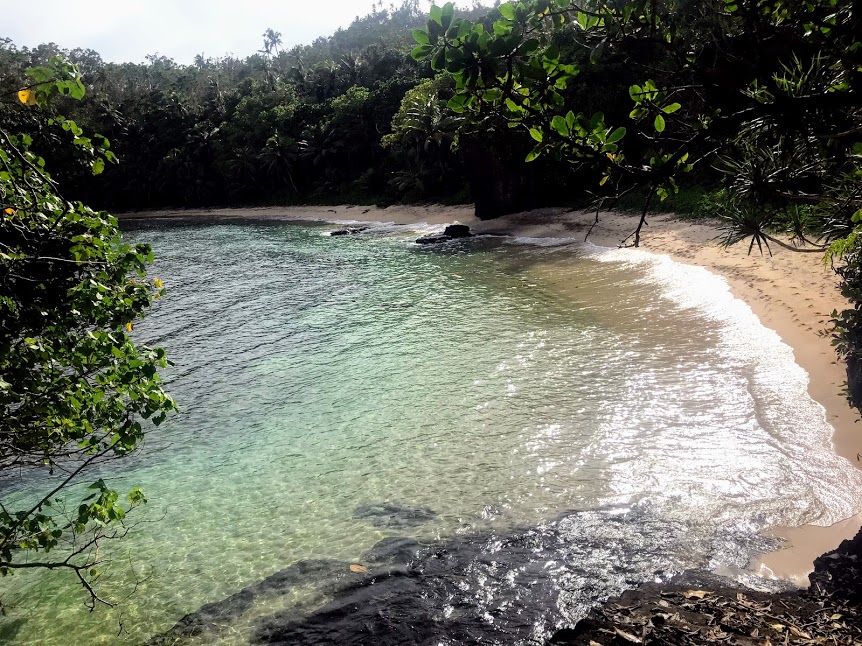 Take a moment and enjoy the view.
Then, make your way down the manmade steps carefully, as they can be slippery from the crashing ocean waves.
And you've arrived.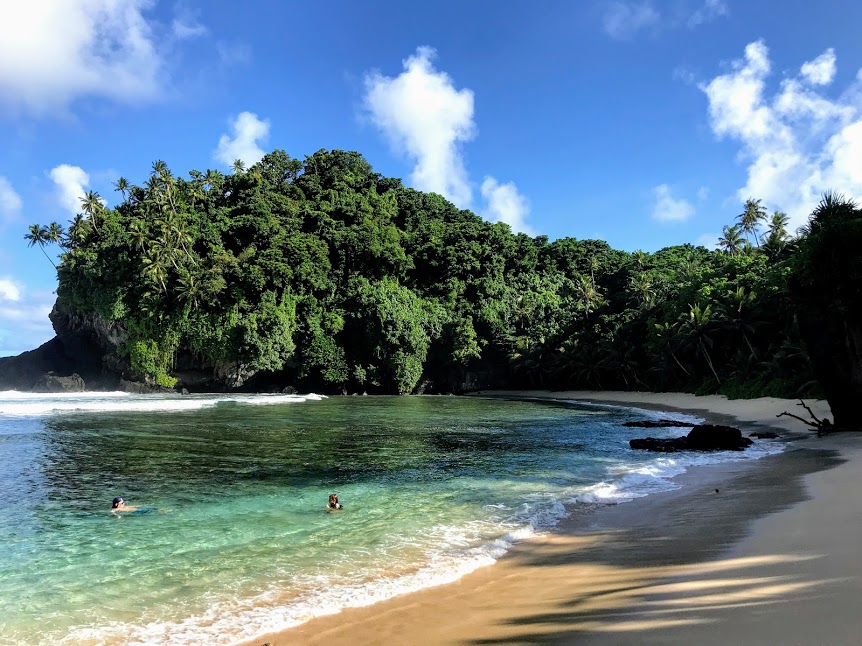 Fogama'a Beach and Ocean
Fogama'a is a special place. The beach is secluded, the sand is soft, and the water is generally calm. It's the perfect beach to bring a picnic lunch and spend all day.
We've loved these Turkish towels, especially for a beach we have to hike to. They're lightweight, roll up nice and small, and dry quickly. Plus, they're eco-friendly. Win-Win!
The beach is lined with mature coconut trees. We commonly find newly fallen coconuts that we crack open and enjoy the refreshing liquid from inside.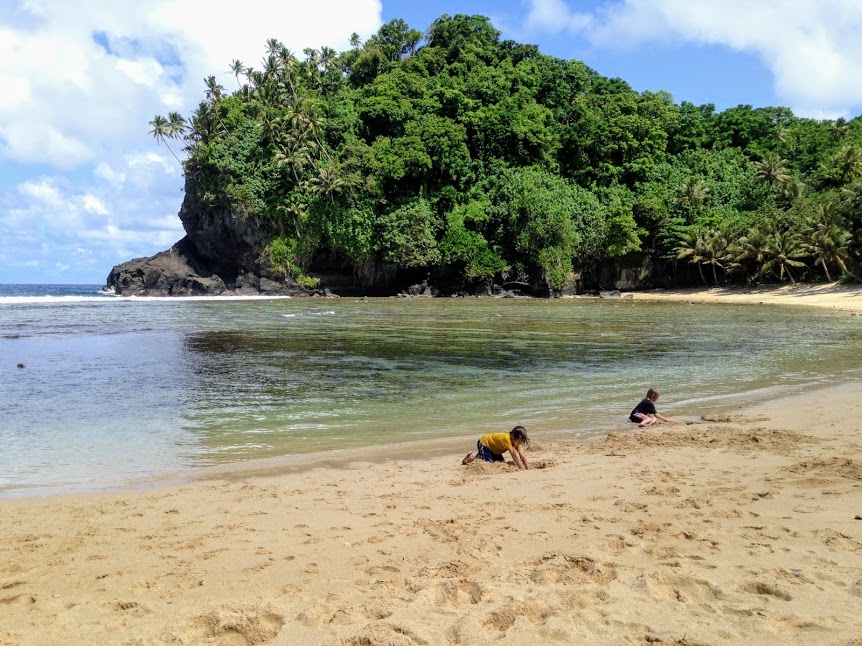 These kids spend hours swimming, building sand castles, burying each other, exploring, playing pirates…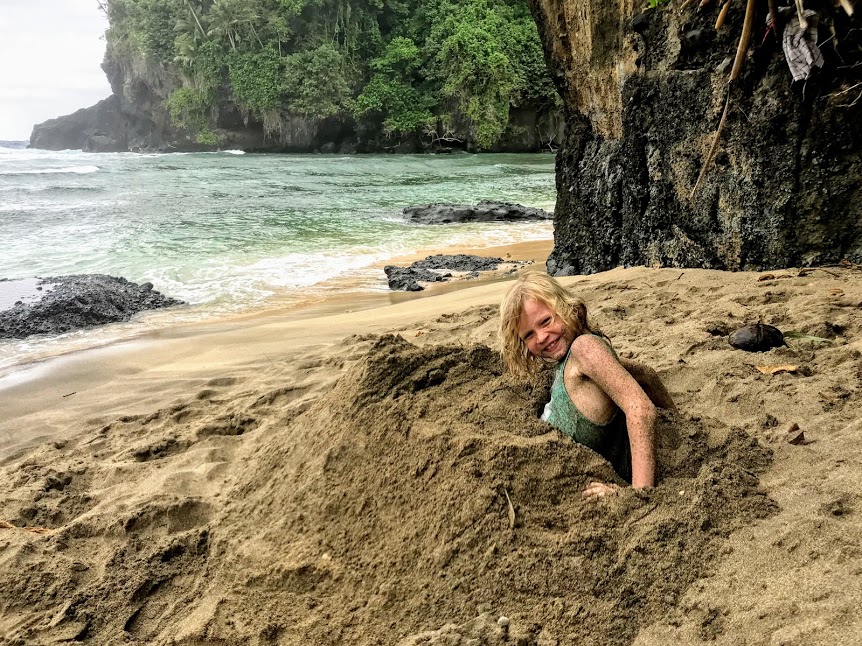 We never want to leave when it comes to time to head back.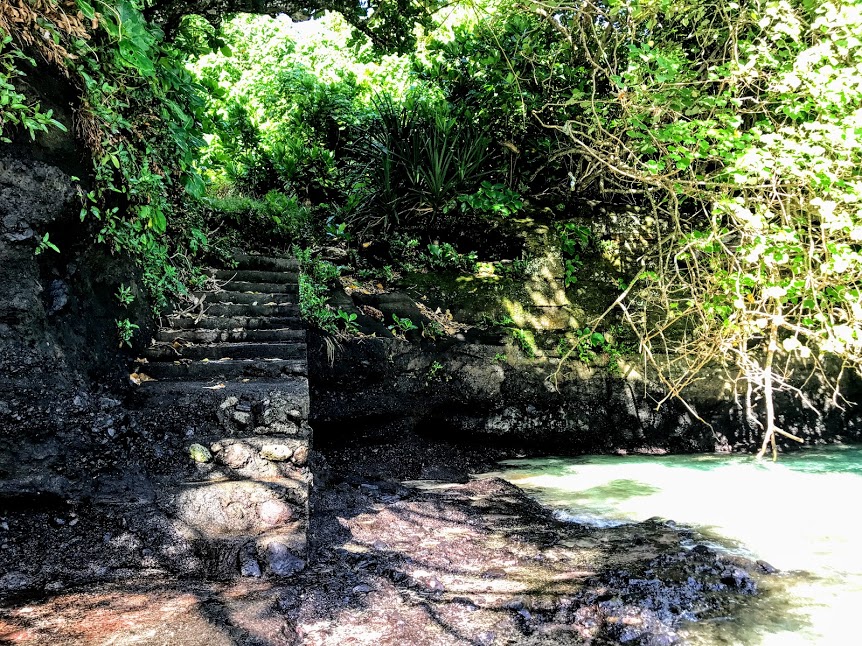 The Hike Back
Make sure you save some energy for the hike back. All of that steep decline you had to carefully make your way down to get to the beach is now a steep incline. Take your time and take rest breaks if you need.
Most of the trail is easy enough to find on the way back, but like I mentioned before, the intersection at the top of the hill can be easy to miss, if you're not paying attention. One time, we let the boys run ahead and they missed the turn, ending up at a piggery. I don't know if you've ever smelled one of those, but the boys won't make that mistake again. 😄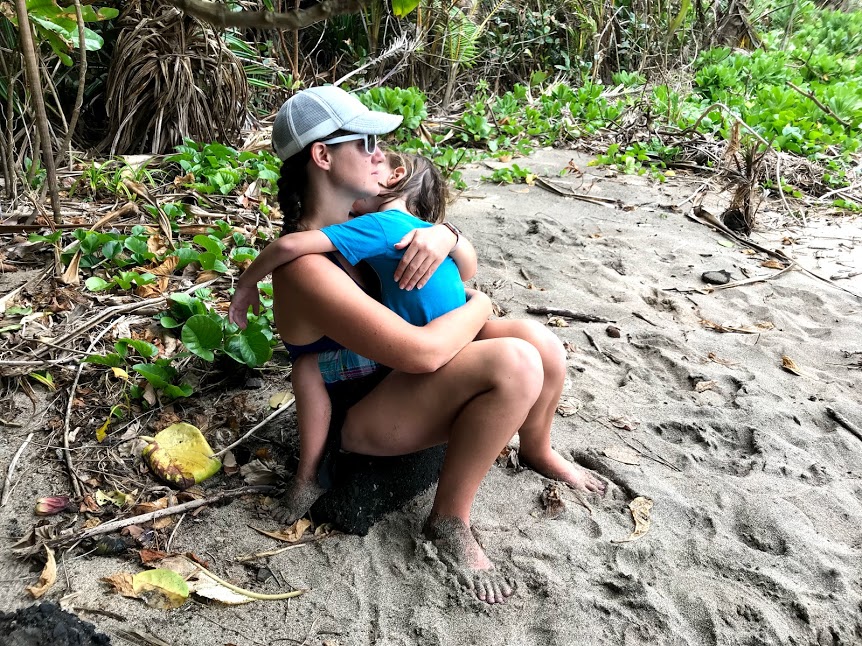 Considerations for Fogama'a
-The trail is not a part of the National Park, so it's not as well maintain regularly. Although, it is used by the local plantation owners, in addition to beach goers.
-The trail has some steep sections, where people have worked to slow erosion by adding cinder blocks, large rocks, and slabs of concrete. Take your time making your way down and back up. Always try to stay on the trail, to help prevent even more erosion.
– While there are lots of palm trees, there is overgrown foliage underneath, limiting the shaded seating area. As the morning turns to afternoon though, the sun starts to dip behind the basalt cliffs and creates shady spots of soft sand.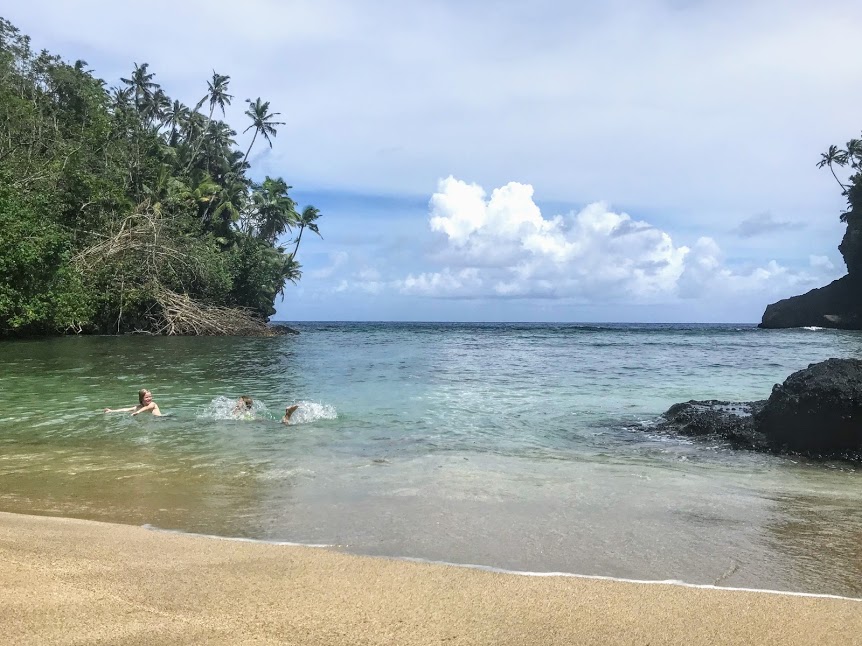 – An ava, in case you don't know, is the Samoan term for rip tides. Looking at the ocean, from the beach, you may or may not be able to see the ava. It runs along the left cliff wall, usually beginning just beyond the cave. Nate will commonly use this rip tide to get out past the breakers, to go spearfishing, but unless you know what you're doing, I'd suggest avoiding the area. The cave is safe to explore at low tide. If the tide is higher, avoid going past the big rock just past the cave and you should still be fine.
There's another cave on the far end of the beach. This one is shallower perfectly safe from ocean currents any time.
– At high tide, the waves can get pretty wild, crashing onto the shore. The kids have fun with them, but we limit how deep they can go, so as not to get sucked out too far- usually no more than waist deep.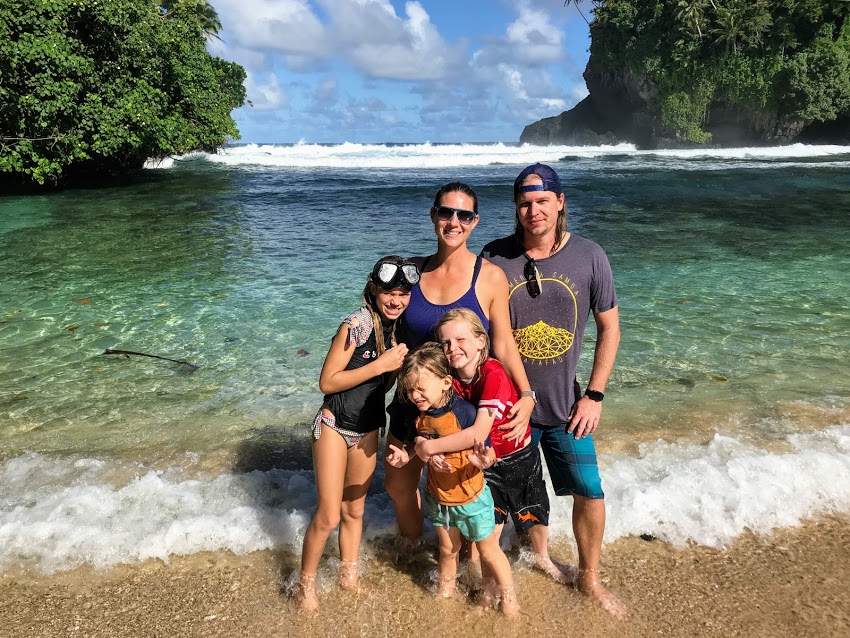 Fogama'a Wrap-Up
I've done my best to show you Fogama'a through my words and photos, yet there's just something that can't be described, that makes Fogama'a a special place.
The hike can be challenging, but once you arrive at the top of the stairs and look out across the beach, you'll know it was worth the effort and more.
Everything works together to make this our favorite spot on the island!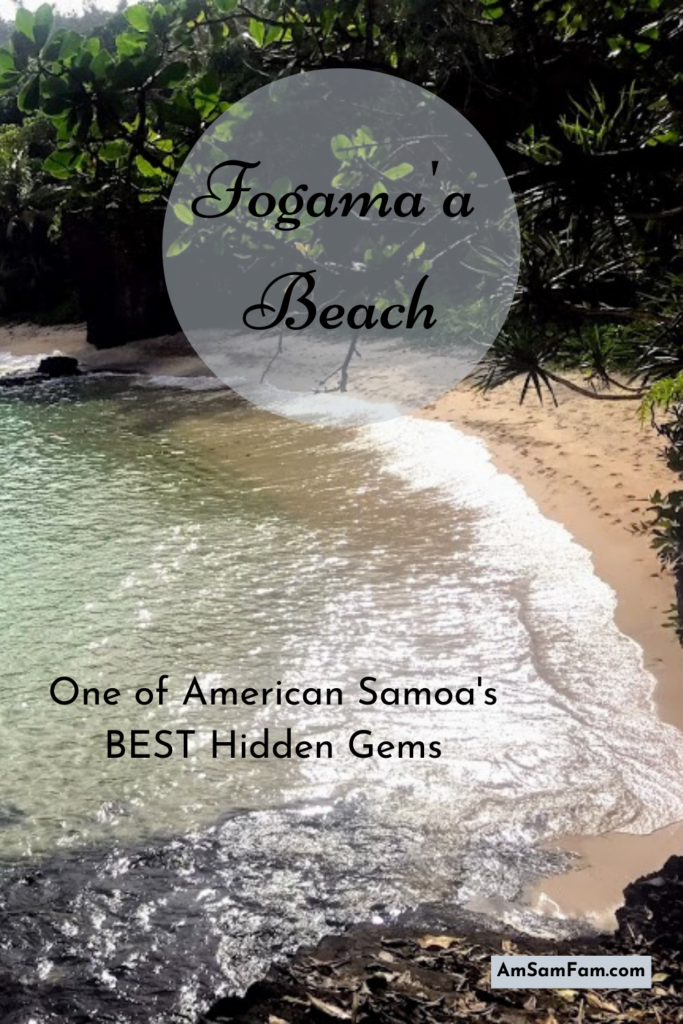 *This post may contain affiliate links. If you purchase anything through the links, you will be supporting this blog through affiliate income, at no extra expense to you. So, let me say in advance, Thank-you!
*We are a participant in the Amazon Services LLC Associates Program, an affiliate advertising program designed to provide a means for us to earn feels by linking to Amazon.com and affiliated sites.Pin this! You know you're going to need those directions to find your way.