Since we first moved to American Samoa, we have wished for a cultural center, where we could learn about the history of the island and its people, the arts, and the traditions. Almost three years later, we finally have one.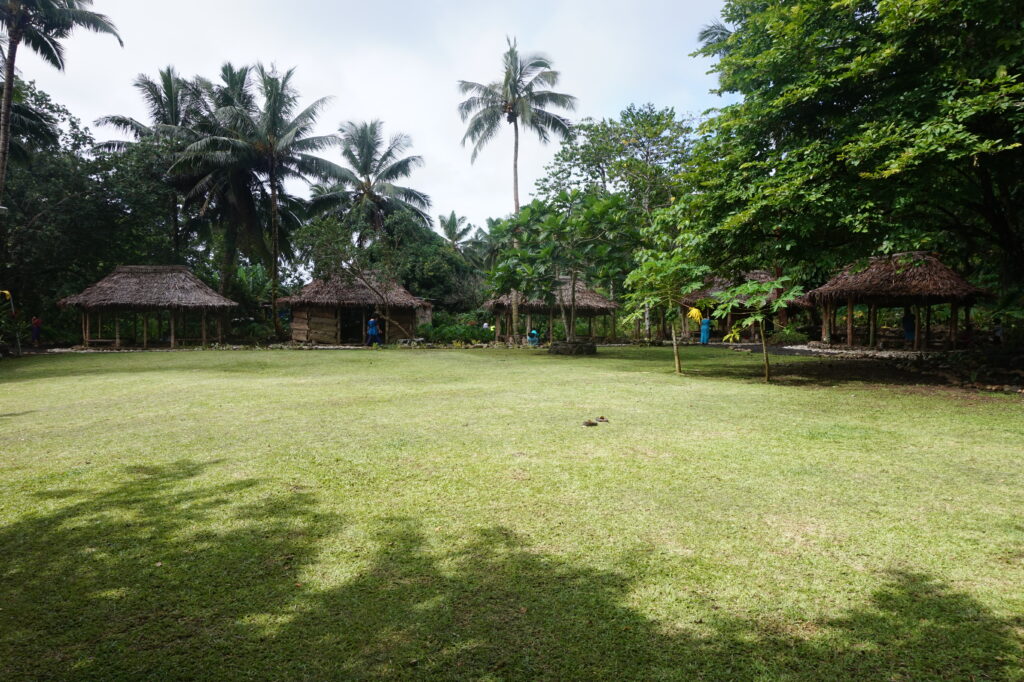 Le Faleo'o Samoan Cultural Center
Le Faleo'o Samoan Cultural Center is a living museum that offers interactive activities to learn about American Samoa and the Samoan culture and traditions. The cultural center bridges the gap between traditional and contemporary.
Co-founder, Dave Tuinei, first envisioned the cultural center when he moved back to the islands, after an absence of twenty-something years. Seeing almost no evidence of the traditional skills and crafts he remembered seeing as a boy. Talking to the older generation left him feeling like these traditions were dying and would soon be gone. He wanted to provide a way to resurrect his culture, in a way that would also be economically advantageous to the people and economy of this island, as well.
Le Faleo'o employs local craftsmen and women to not only demonstrate the skills to visitors, but also to pass the knowledge on to the younger generations. Their goal is that, by providing a livable wage as payment for these traditional crafts and skills, they will be able to keep it authentic and thriving for generations to come.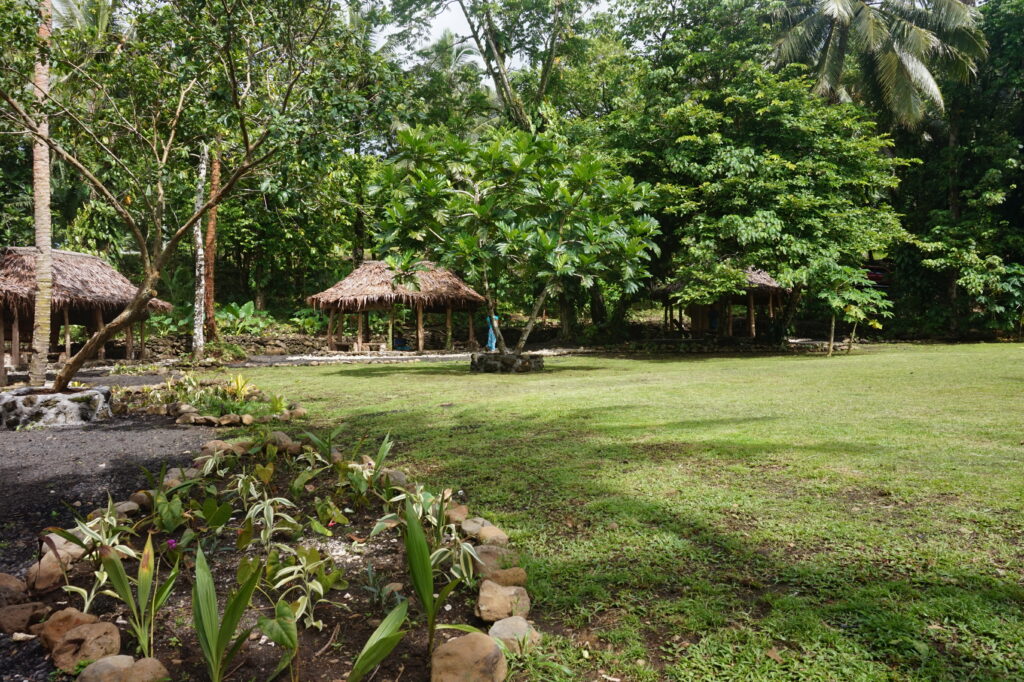 Le Faleo'o Rainforest Setting
Le Faleo'o is located in Mapusaga Fou.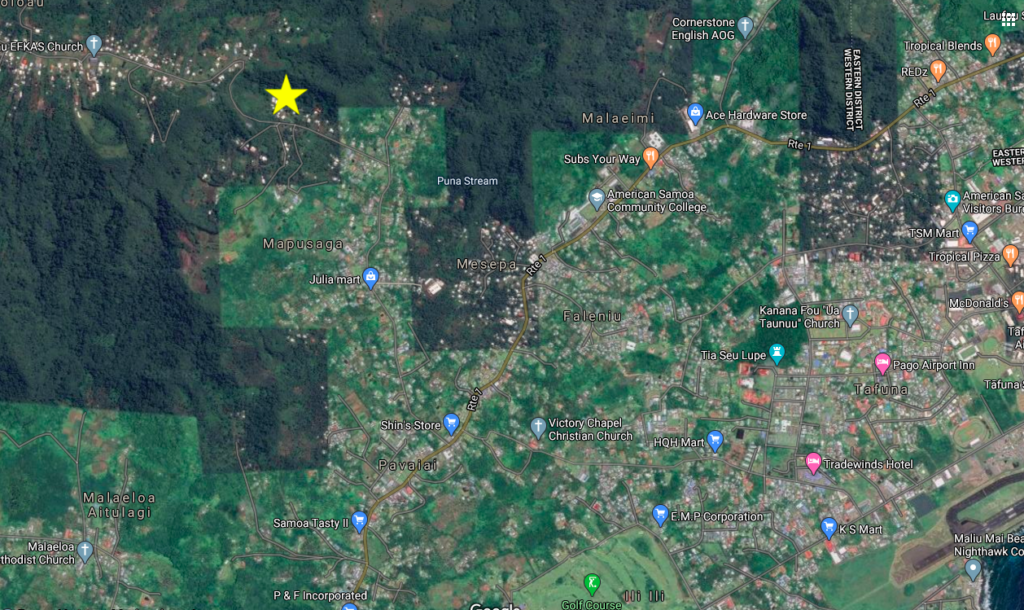 To get there, visitors follow a curvy road up the mountain, then descend a narrow drive to a small, idyllic rain-forested valley. The authentic setting takes visitors back in time, away from paved roads, shopping marts, or the fast pace of modern day. They can take their time, as they make their way around the malai (grassy lawn in the middle), across the stone paths, from fale to fale (traditional hut), learning about the crafts and listening to the stories of old.
Learning About the Arts at Le Faleo'o
Each fale showcases a specific craft or traditional practice: Siapo, Ma'ilo, Mea Tau Lima, Ie Toga, Afa, and 'Ava.
Within each fale, there's one person who tells the stories and instructions in Samoan and one who translates into English. The combination of the two is perfect; hearing the traditional language telling the traditional stories, while being able to understand them, too.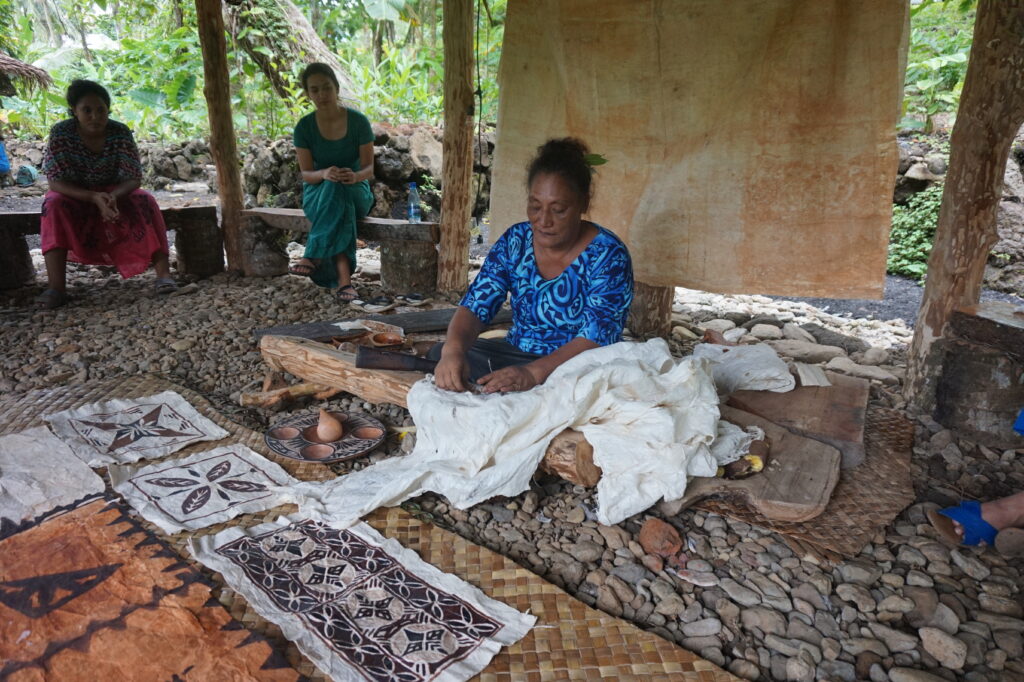 Siapo
This is the art of making cloth from tree bark (u'a). Artisans strip and pound the bark into the desired thickness, then decorate it with natural dyes in traditional geometric patterns. Siapo was traditionally used for clothing, blankets, decorations, and gifts or bartering. Today, it's mostly used in the se'e (traditional gift giving ceremony).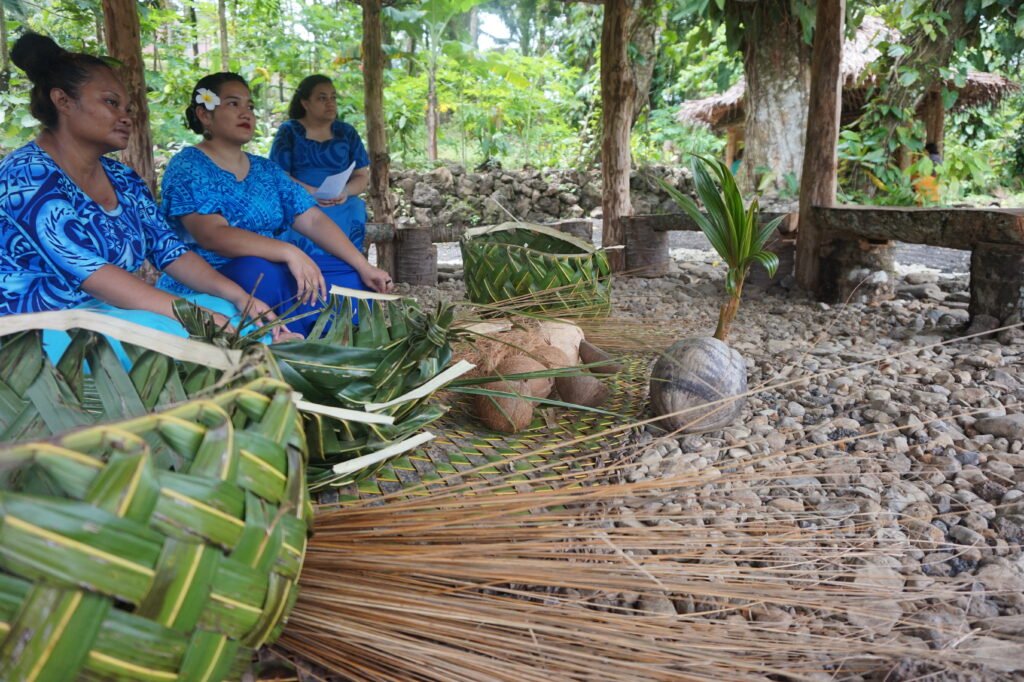 Ma'ilo
Ma'ilo are traditional palm frond plates. Locals still use the ma'ilo today, though not as commonly as in the past. The instructions are simple, while the finished product is beautiful, useful, and sustainable. Every visitor gets the chance to make and use their own.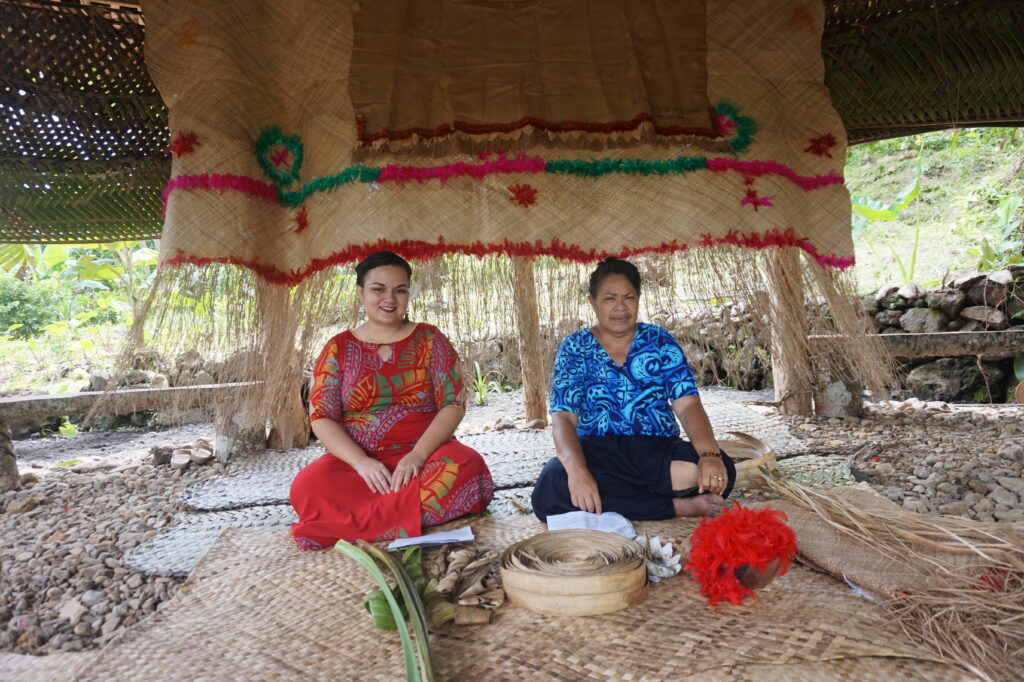 Mea Tau Lima
Roughly translated to mean handicrafts, Mea Tau Lima is the art of making many different products from palm fronds. At this fale, visitors can weave their own bracelet or headband, or learn how artists create handbags, placemats, and many other products using the same skills.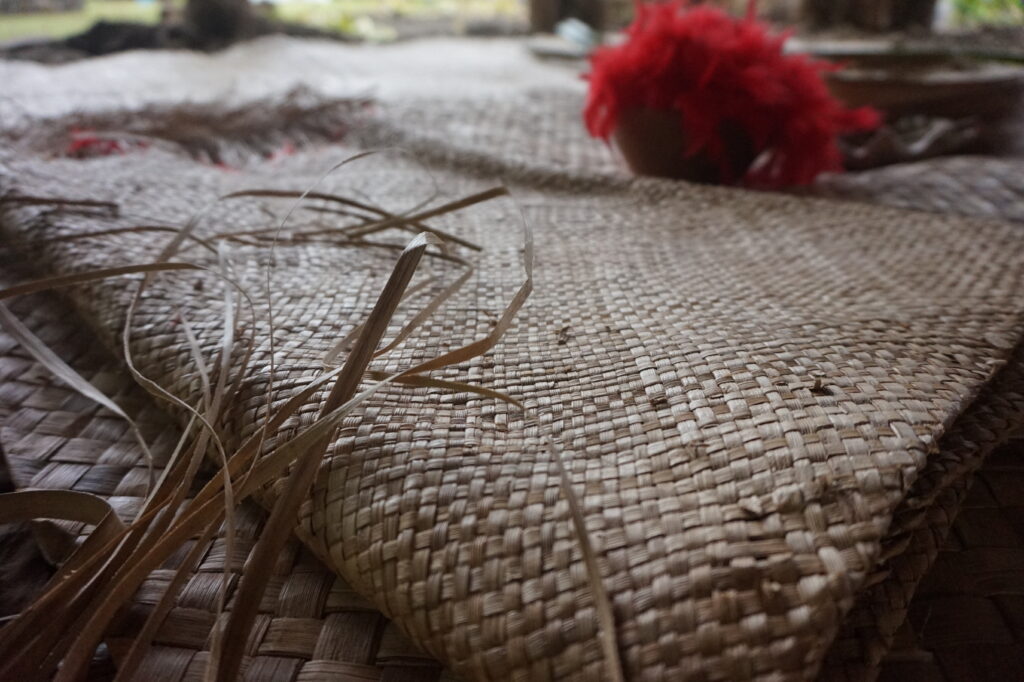 Ie Toga
Ie Toga, or Fine Woven Mats, were traditionally a form of currency. They're still given and received as part of the se'e. The more intricate they are, the more valuable they are. Visitors will hear the origin story of ie toga, as well as the work-intensive process to make these beautiful works of art.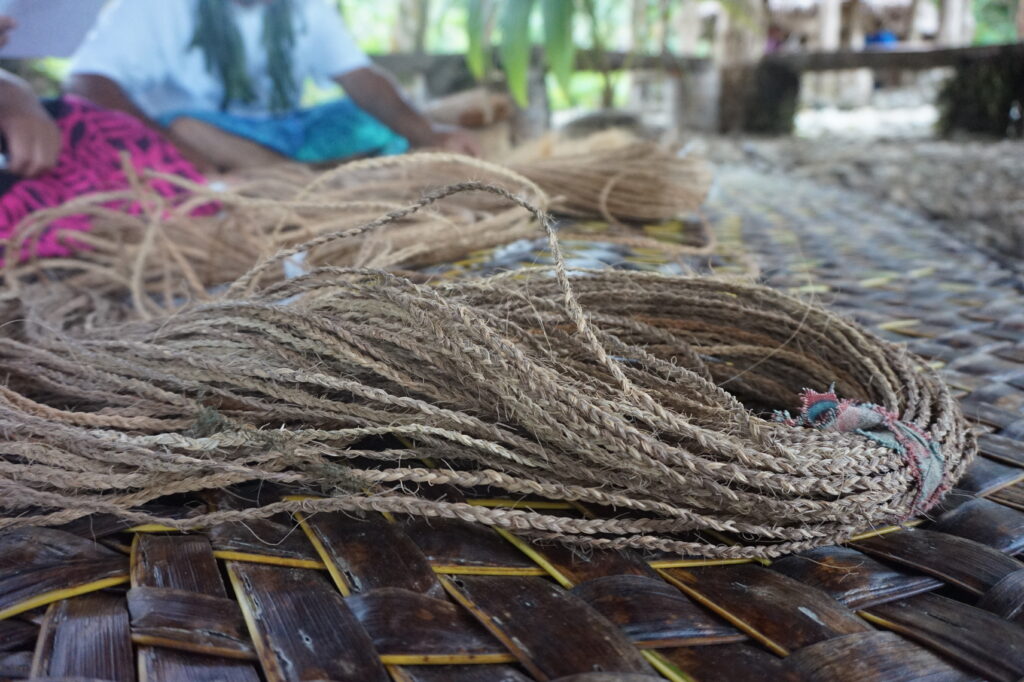 Afa
Afa is the art of making rope from coconut fibers. Before Europeans came to the islands, the people had no metal for tools or weapons. So, when houses or boats were built, they were completely held together with afa.
Visitors have the chance to fa'aka'a (make) their own coconut fiber strands and braid them to create the afa.
'Ava
Also known regionally as kava, it's a ceremonial drink made from the 'ava root. The drink is used during weddings, funerals, ceremonies to welcome honored guests, and other such celebrations.
At Le Faleo'o, visitors listen to the story of how 'ava came about and then have the opportunity to taste its earthy flavor and experience its numbing effects. After just a sip, the tongue and lips will most likely feel slightly tingly and numb, as 'ava is a sedative.
In small doses, it's even safe for children to try a taste.
Stories and Legends
Samoan was strictly an oral language before Europeans came and started writing it down. As such, the stories and legends that have been passed down for thousands of years are bound to have changed. The same story can be told ten different times, in ten different ways. No one knows for sure which was the original, if any of them. Known as kelemau, these variations continue to transform depending on who's telling the story, within which circumstances. The Samoan people are still tell the stories, to pass on genealogies, beliefs, histories, and legends.
Le Faleo'o makes a point of telling the stories of their ancestors and traditions to keep the culture and skills alive, as well as to share their beauty and value with others.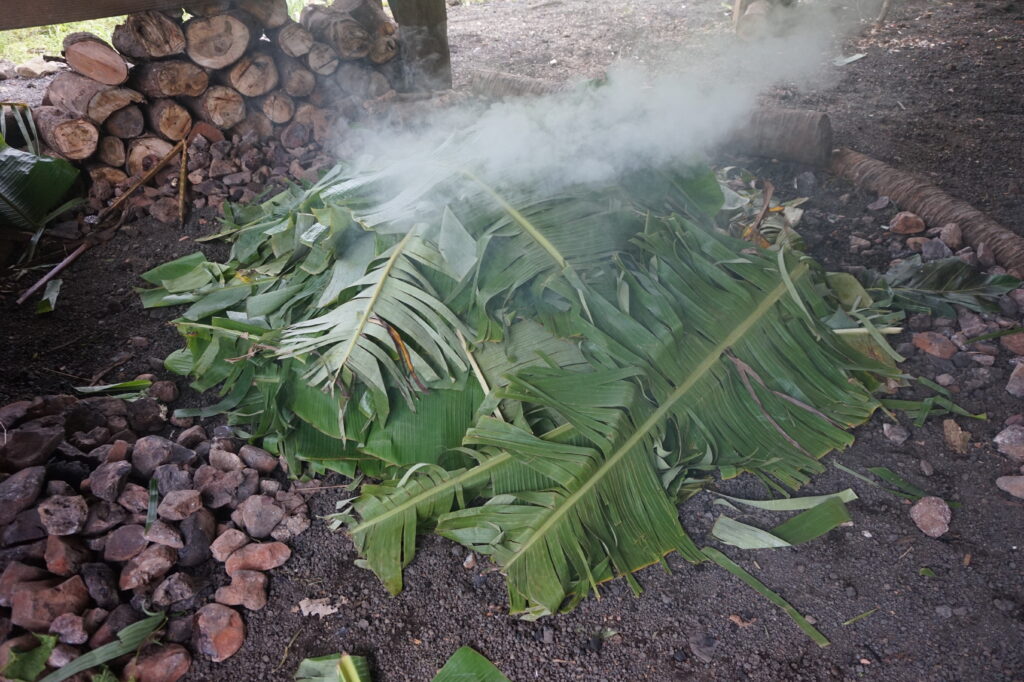 Le Faleo'o Umu
The staff prepare an umu (traditional Samoan earth oven). They demonstrate everything from climbing a coconut tree to harvesting fresh coconuts, to opening and scraping coconuts for making fresh coconut cream.
Then they cover the food with hot rocks and banana leaves and let it steam to perfection, making the tenderest meats, creamiest talo, and most indulgent palusami.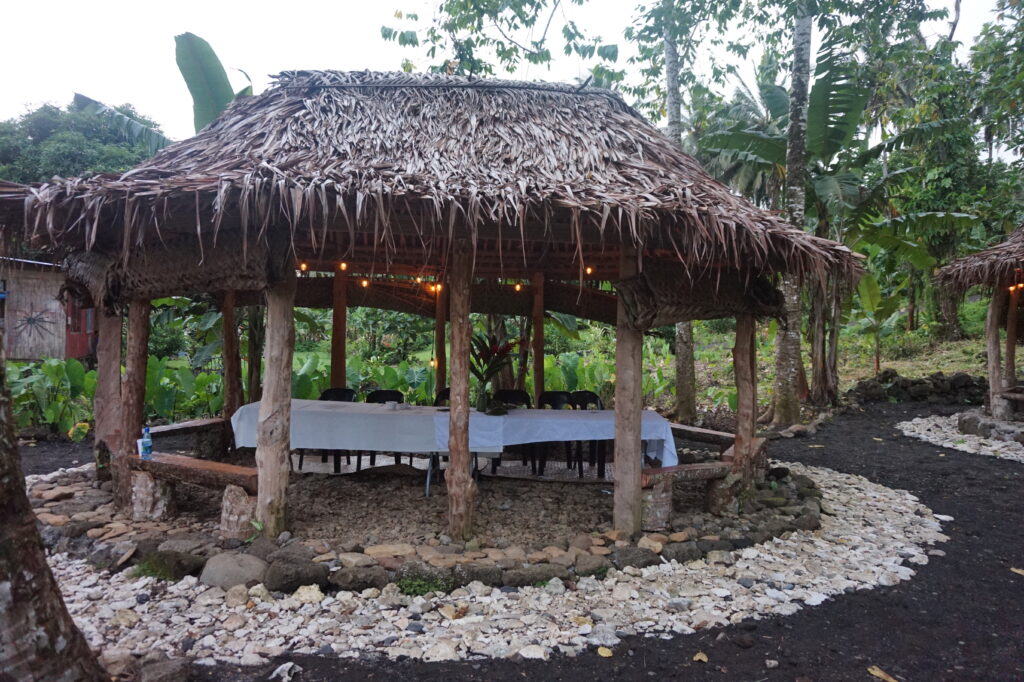 Dinner and Entertainment
Once the umu is ready, the tables are set, and guests are served the delectable treasures unearthed from the umu. The flavors are magical, and the serving sizes are more than enough.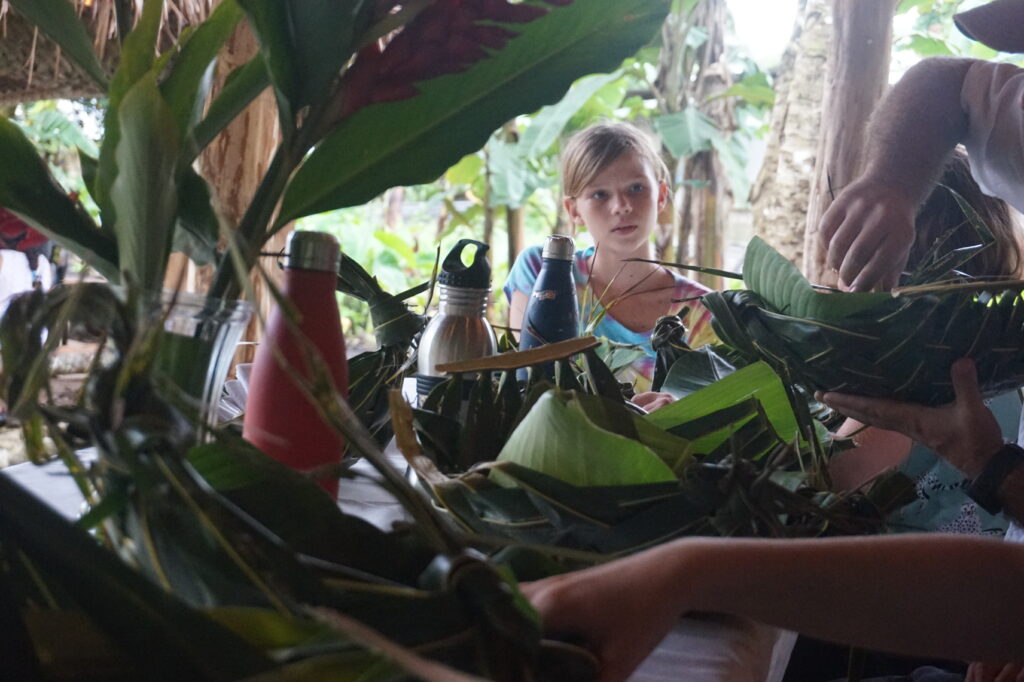 While guests savor their Samoan feast, local dance troops perform traditional siva (Samoan dance). The atmosphere is electric, as performers dance through dusk and into the night.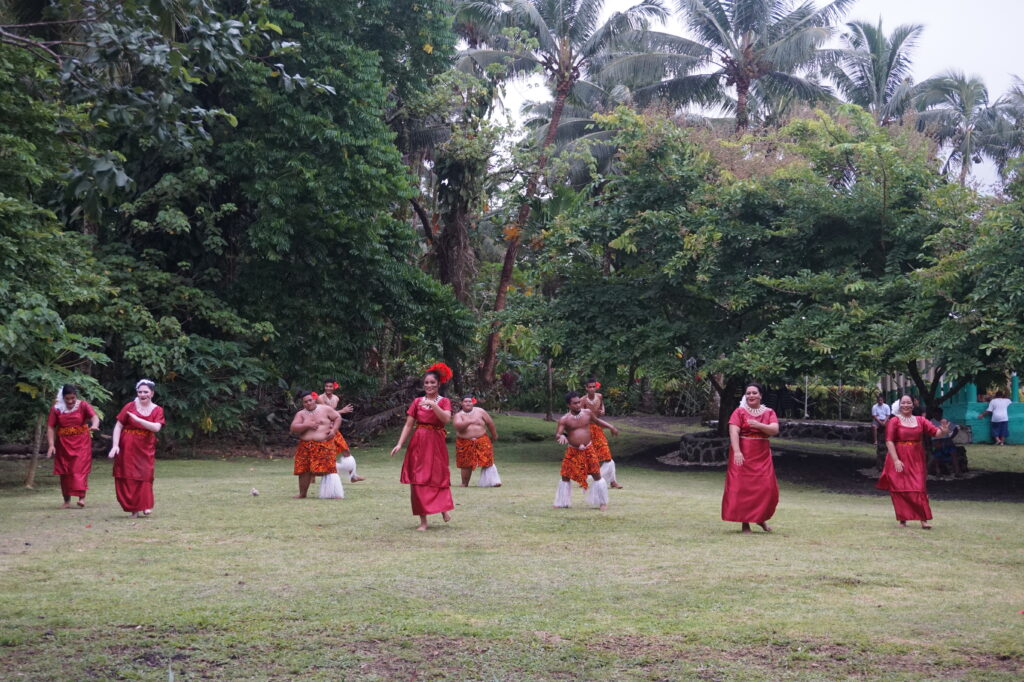 After all is said and done, visitors leave Le Faleo'o with understanding and sincere appreciation for the Samoan culture, traditions, and generous hospitality.
For more information and for schedules and prices, check out their website, www.lefaleoo.com, or their Facebook and Instagram pages.
Note: Le Faleo'o determines to restore the natural resources of the island, as well as the culture. Thus, they have planted hundreds of trees and plants around the grounds of the cultural center, in an attempt to give back, more than they take. They grow their own food or buy it locally, supporting local farmers and fishermen, as well.