When I was 18, I had a friend from Australia who told me that they celebrated Christmas every year at the beach, eating sandwiches or barbecue (can you say stereotypical "throw another shrimp on the barby"?). The image of this never left my mind.
15 years later, I got to experience it for myself, not in Australia, but by celebrating Christmas in American Samoa.
It was even better than I'd imagined!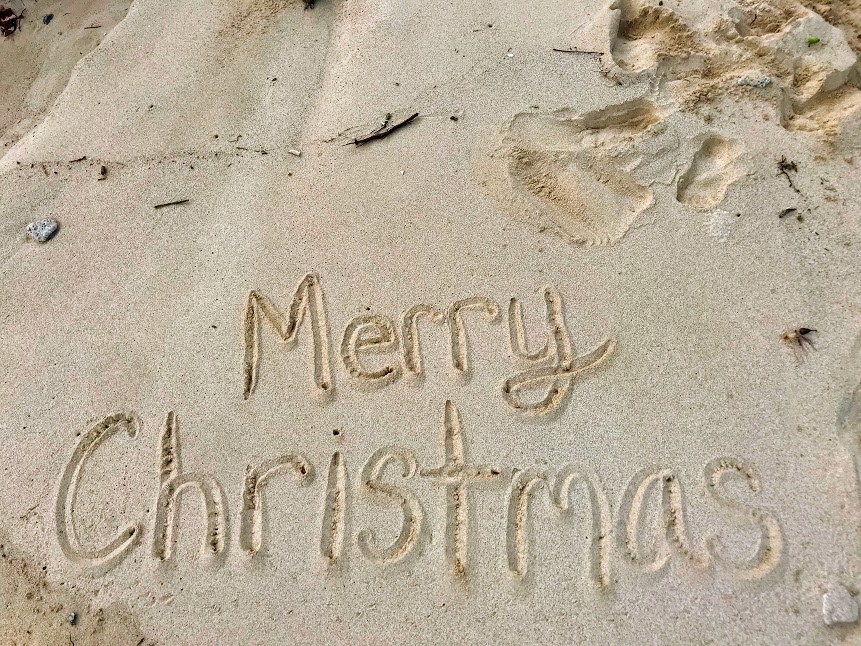 Christmas in American Samoa
Christmas in Am Sam feels completely different and yet so much the same. Everyone will have their own unique experience, this is ours: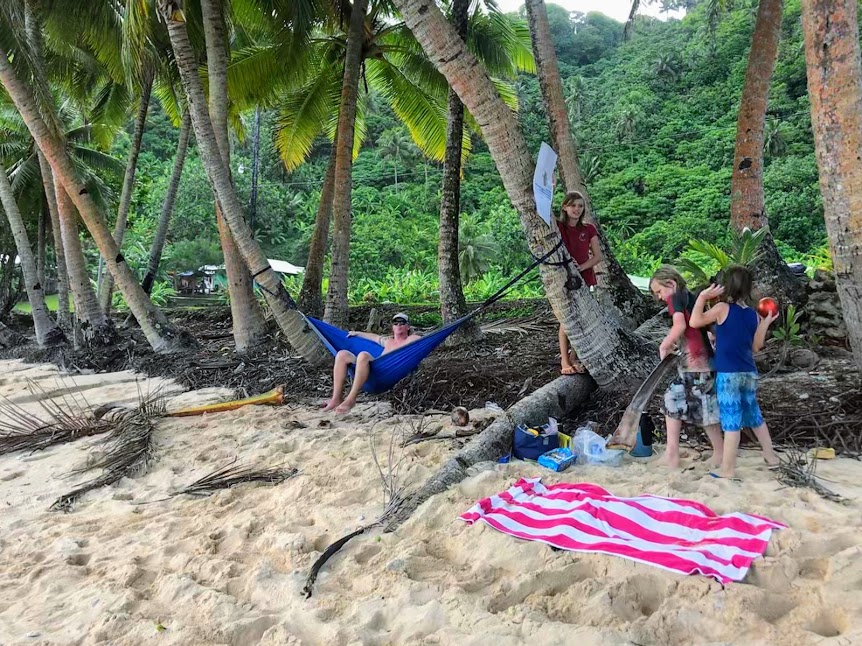 Eternal Summer
When we moved to American Samoa, where the temperature never drops below 77° F (25° C) and December is one of the hottest months of the year, the Christmas season lost some of its magic. We found it incredibly difficult to get into the Christmas spirit leading up to Christmas Day. The heat and humidity became almost unbearable on some days, when the winds died down to nothing and all we were left with was the puddle of sweat, we were sitting in.
Two years later it's still too hot to curl up by the fire, instead, we stretch out by a fan. Instead of skating and sledding, we snorkel and swim. Instead of sipping hot chocolate or wassail, we drink chilled niu (coconuts). People here do drink hot Koko Samoa (hot cocoa made from the local Koko beans), but we tend to opt for colder drinks
Christmas songs seem out of place when you're cruising along the ocean road, with the windows rolled down. The idea of heating up the oven to bake a batch of gingerbread cookies or a Christmas ham seems unbearable and Gingerbread houses just don't stand up to the heat and humidity like one would hope.
But…
The sight of decorated palm trees brings smiles to our faces every time! Being able to send our kids outside to play for hours during the long days of school holidays without having to get them bundled up is worth the shower they need to wash off the sand and sweat when they come back inside.
And spending Christmas Day at the beach… but wait, I'm getting ahead of myself.
Eternal Summer means flip flops (or slippers, as we call them here), shorts, swimming suits, and sun tans all year long. And in a place where you're never more than 20 minutes from the beach.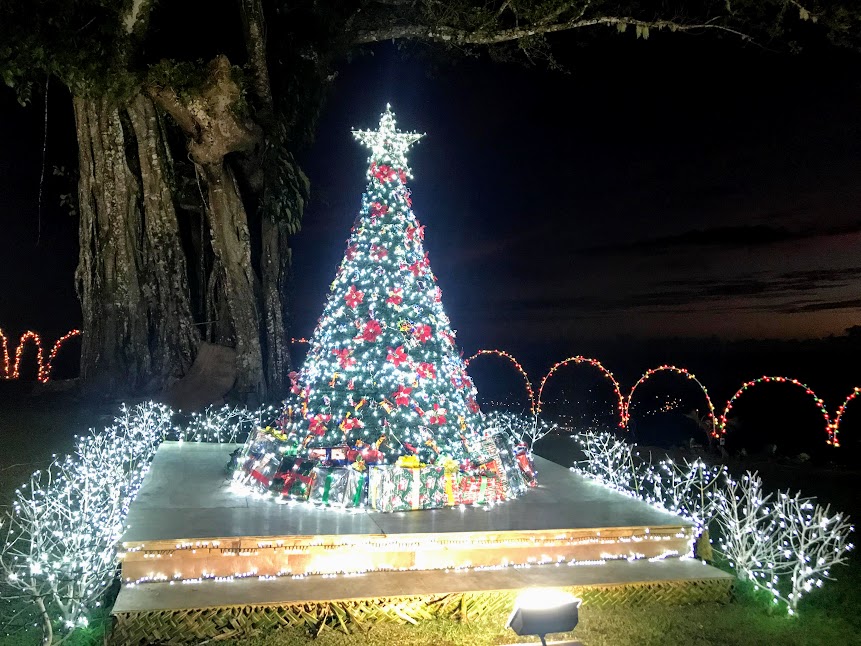 The Island Shines
Our first year living in American Samoa, there were a few decorated homes and businesses. Last year, there were a few more. This year, everyone showed up! There was an island-wide competition, to see which village could put on the best light show. Businesses, homes, trees, fences, even graves have been lit up for weeks now.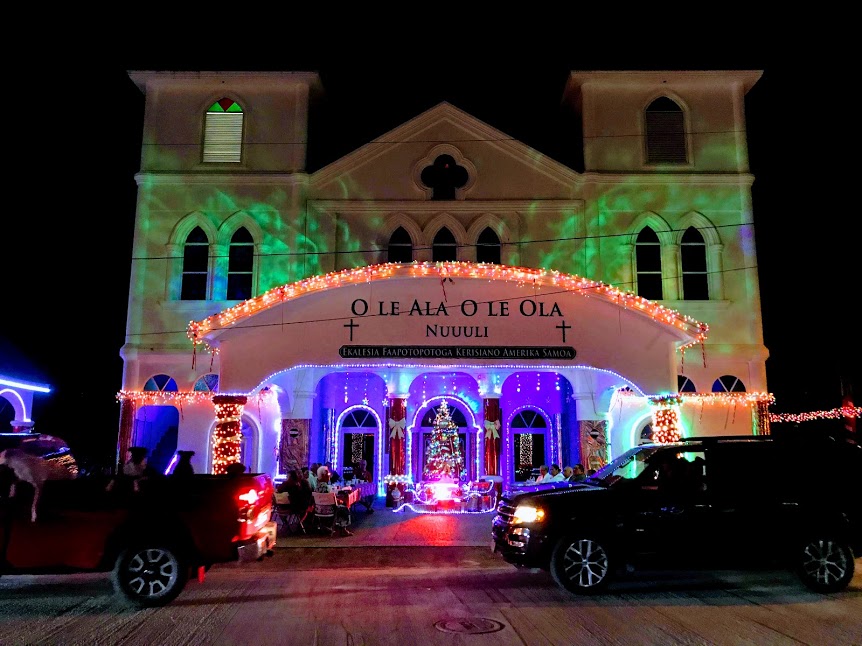 Our little road through Coconut Point, in Nu'uuli, has some of the best displays on the island. The road up to Aoloau is always the highlight of the Christmas decorations on-island, but even they have outdone themselves this year. People come from all over Tutuila to admire the creativity and hard work of these displays.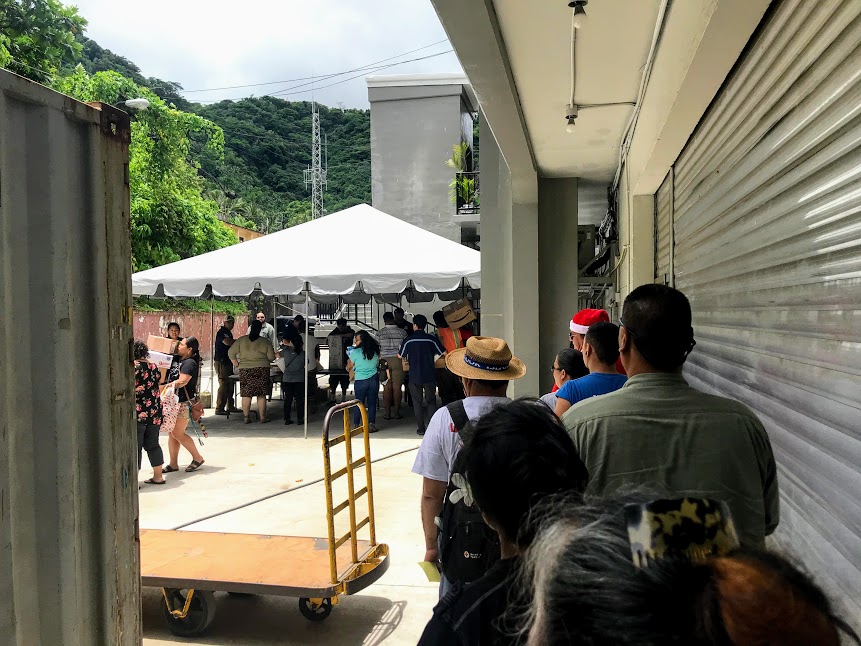 The People Shine
I've said it before and I'll keep right on saying it, the people of American Samoa are the friendliest people on Earth. The stress and chaos that can accompany the holiday season doesn't dim the light and kindness of the people here. Standing in line at the post office earlier for more than an hour, in the heat of eternal summer, could have been made so much worse by pushy, unkind, or selfish people. As it was, we noticed patience and selflessness. People were chatting, even laughing.
Light In the Darkness
This December has in fact been somewhat more somber, as the region has been attacked by a measles outbreak. There was a ban on all public gatherings here for about a week and a half, that canceled Christmas parties and school Christmas programs. We were told to stay at home, especially keeping our kids safe, until the threat of an epidemic was passed.
Our neighbors to the west, in Independent Samoa, have been hit the hardest. They've lost 81 souls, mostly children under the age of four, in the weeks leading up to Christmas. The weight of this is unimaginable. The outpouring of love seen within their own islands, as well as from people around the world in support of their people has been truly inspiring. What greater testament of Christ-like charity can there be than to help others in need, whether your own family or friend or strangers abroad?
Since the ban on public gatherings was lifted in American Samoa last week, we've seen people making up for it by fitting in as many celebrations as possible.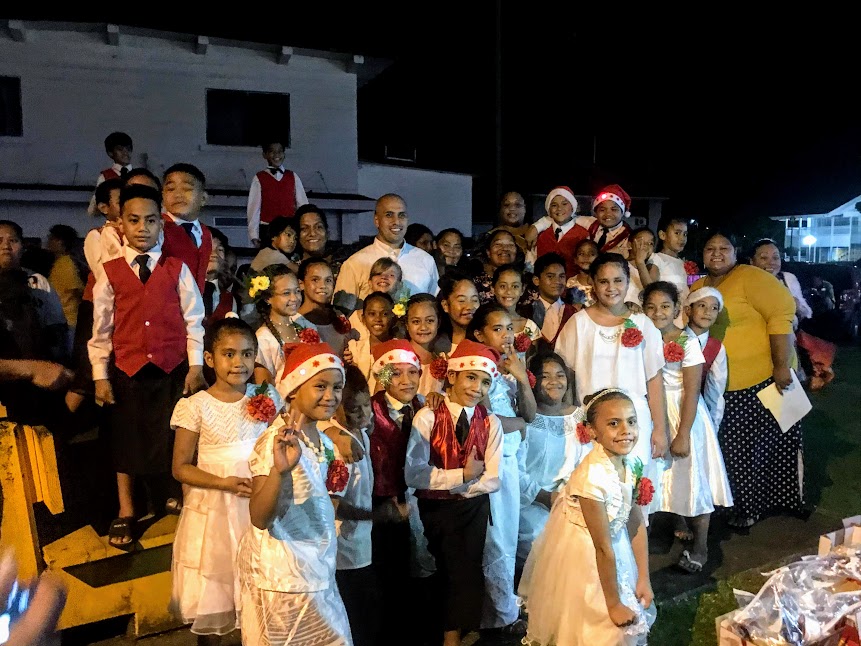 Just last week, Hadley was able to sing in a children's choir for the Territorial Christmas Program. Participating in this televised event was a scary experience for her, but one I hope she'll never forget. She stood alongside her peers and sang songs in both English and Samoan, of love and faith in the birth of her Savior, that brought tears to this mama's eyes.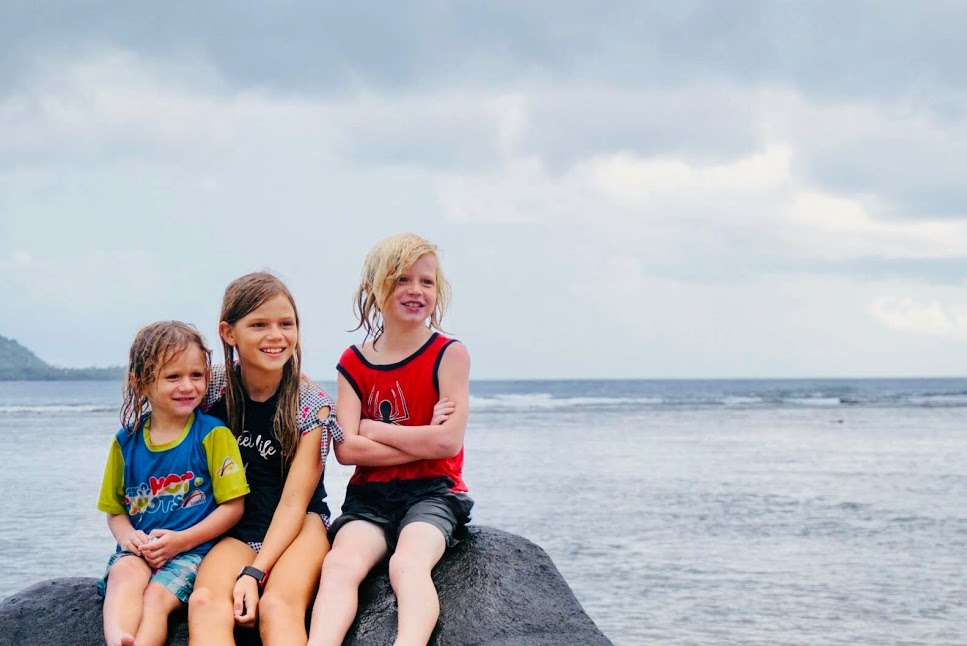 Christmas Day Celebrations
One of the biggest surprises to us when we celebrated our first Christmas in American Samoa was the number of businesses that were open. Much of the island was still operating business as usual. We were in the middle of opening presents Christmas morning and we heard noise from the garbage truck, on their route, like any other day.
For us, Christmas morning has remained much the same. The kids wake us up too early (haha), we open presents, and then Nate makes us a delicious breakfast. It's a lazy morning, where the kids play with their new things and we get around to tidying up at some point throughout the morning.
The rest of Christmas day has changed dramatically. We used to spend the day doing a marathon of house visits to different family, running from heated house to heated car and then back into another heated house. It consisted of wearing lots of layers and curling up under warm blankets. We indulged in at least one Christmas feast, washed down with egg nog and hot apple cider. Then, we would stay out late, playing games, while the kids were spoiled by grandparents and played with cousins.
Our Christmases have been much simpler here. After filling up on Nate's Christmas breakfast, we pack some sandwiches and snacks. Then we head to the beach. We've spent every Christmas so far at Utumea West- a beautiful, white sand beach that's lined with tall coconut trees, offering shade and additional refreshments. There we stay until the sun starts setting behind the mountains.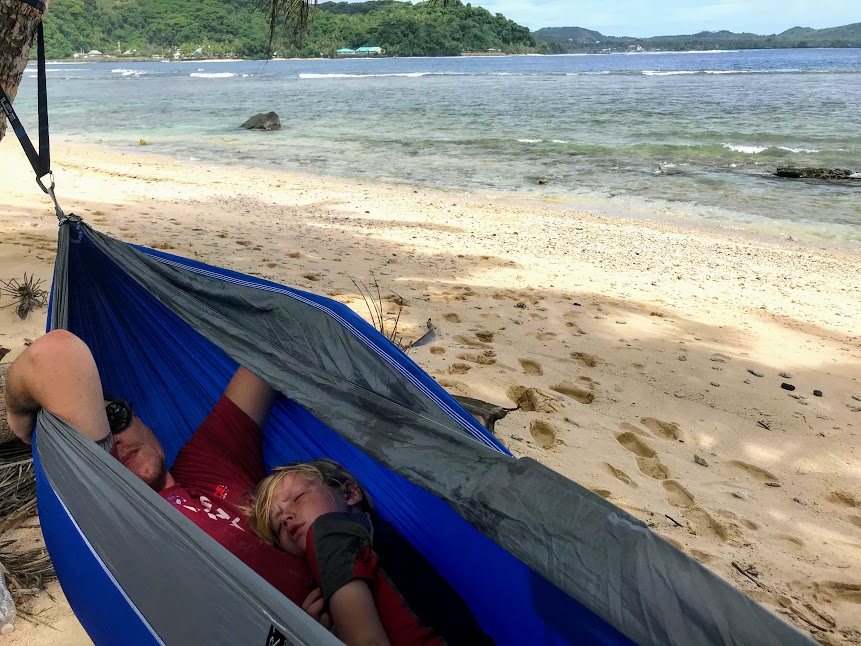 We swim, bury each other in the sand, make sand angels and sand men, and have as much fun as we can stand. After the beach, we normally go home to shower off and eat a simple meal of leftovers or something simple like nachos (you know, because we're classy like that).
We rarely miss the winter, but during the days leading up to Christmas we each find ourselves wishing for a white Christmas. However, when Christmas Day arrives, we wouldn't have it any other way. I don't know that we'll ever spend a better Christmas than these easy, relaxed Christmases at the beach.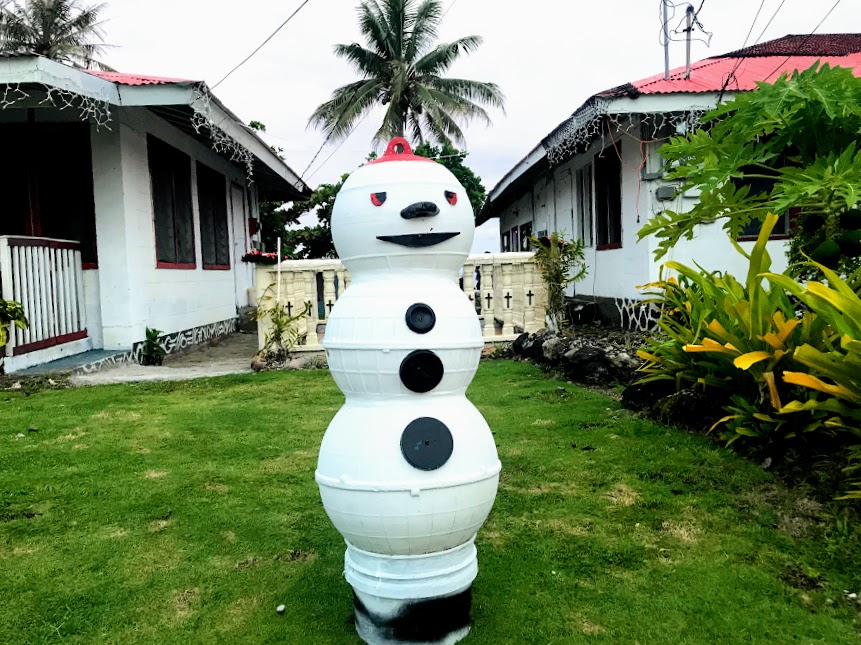 Flights for Christmas In American Samoa
There are two option for flying to American Samoa: Fly on Hawaiian Airlines, through Hawaii or fly through Samoa on Samoa Air or Talofa Air. Hawaiian Airlines has two weekly flights to American Samoa. The exceptions to this are during the kids' "summer" break (June-August-ish, even though that's actually our winter here) and for the last few weeks in December. During these times they add a third flight each week. Great deals can be found during these times as well, especially if you're looking to use miles to buy your plane tickets.
Flying with Samoa or Talofa are also great options. It's a short flight from Samoa to our island and you can found great prices when looking at tickets from the States through other Pacific destinations, such as New Zealand, Fiji, and Australia.
And there you have it- Christmas in American Samoa in a (coco)nut shell. The Christmas season can be harder to feel when living on a tropical island, but Christmas Day at the beach simply can't be beat (in my humble opinion).
Have you ever spent Christmas at the beach? Tell me what your favorite part is?
Tell me your favorite place to spend Christmas and who knows, maybe next year we'll spend Christmas there.